Dots receives AIA Award of Merit for Interiors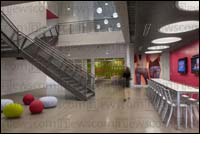 Dots, the national fashion specialty apparel retailer's new bold corporate campus was recognized in November as the recipient of the Award of Merit for Interiors from the Cleveland chapter of the American Institute of Architects. The award was presented to Dots' design firm, Vocon, at the annual award ceremony.

The Awards are widely acknowledged as among the most prestigious in the region and spotlight architecture, interior design and urban design excellence. Dots campus project was recognized alongside The Cleveland Clinic, Wright State College, Cuyahoga Community College and the Greater Cleveland Regional Transit Authority for the company's new headquarters design work; and was one of three winners in the Merit for Interiors category.

"This is an outstanding achievement and I am thrilled our organization was recognized with this distinguished honor," said Robert Glick, Dots Chairman and CEO. "Dots is extremely delighted with the outcome of this project. It epitomizes our vision of creating a unique culture that's built on a west coast lifestyle. Vocon embraced our overall vision and took our campus concept from blueprints to reality. By combining forces of creativity and construction, the end result is a cutting edge fashion facility," said Glick.

The award-winning, state-of-the-art facility is tucked away in Glenwillow's Emerald Valley industrial park, and spans 192,000 square feet of office space and innovative distribution center. Dots collaborated with Vocon and developer Premier Builders, to create an atmosphere that embraces Dots' "fashion party" culture.

"This year, AIA Cleveland received one of the largest award submissions in the chapter's history," said Nikki Karlin of Vocon. "It was incredible to be recognized among all of the entries, as few awards are typically given for corporate interiors projects. Vocon was very fortunate to work with a client who truly allowed us to share their vision for the future and to create a space that not only expresses the Dots corporate culture, but also show's Bob's passion for his company and his commitment to being an employer of choice."

The company is recognized throughout the retail world for its affordable, fresh fashion along with a fun, friendly shopping experience. When contemplating a design for its new corporate headquarters, the company sought to achieve an atmosphere that inspired creativity and collaboration for its distinctive brand identity, culture and reputation.

Vocon, along with a team of designers, Dots' CEO Robert Glick and the company's vision team identified a number of key features necessary to achieve the design objective for the new offices. This included incorporating fashion, style and branding of its retail stores in to the corporate office environment. The design utilized abundance of natural light, an open collaborative work space, and a variety of formal and informal meeting spaces.

Dots wanted to demonstrate its ability to deliver an exceptional environment while retaining its reputation for incredible value. The team focused on creating a premier space that presented a "WOW factor" for both employees and visitors. The company fashionably stretched its design costs by opting for the feel of a warehouse loft with polished concrete flooring and exposed ceilings versus unnecessary costs for carpeting and ceiling panels of a traditional office environment.