Kymaro proudly introduces new Kymaro Body Shaper Cami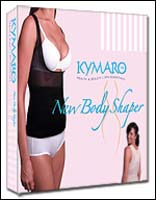 UbuyEZ, the website to visit for the great "As Seen on TV" products, is introducing a new product to the Kymaro Body Shaper line up. The Kymaro Cami was designed to shape and mold the midsection, just like the Kymaro New Body Shaper does, but with a functional twist. The Kymaro Cami has clear straps and a lower back, allowing it to be used with tank tops, strapless tops, dresses, racer-back tanks, halter tops, and other strapless apparel.

Kymaro Body Shaper has become the body shaper of choice for women who are looking to smooth out the bumps and rolls that traditional undergarments leave behind. The Kymaro Body Shaper comes in two pieces, top and bottom, eliminating the inconvenience caused by one-piece body shapers, and the new Kymaro Cami makes the body shaper even more flexible by adding clear straps to the garment. The Kymaro Body Shaper is now available in black and nude, and the Kymaro Cami can be purchased for a $9.95 processing fee with the purchase of a Kymaro Body Shaper Top.

Offering the Kymaro Body Shaper in two pieces, with tops and bottoms, is one thing that sets the Kymaro Body Shaper apart from other body shapers on the market, and adds a level of convenience that one piece body shapers do not posses. Kymaro recognizes that people come in all shapes and sizes, and one size does not fit all, so offering the tops and bottoms separately in a range of sizes allows customers to find a better fit. It also allows more flexibility as there are times when a person only needs the top.

The Kymaro Body Shaper comes in six sizes, with a convenient sizing chart on the order page to make things even easier. If, however, a customer finds that their Kymaro Body Shaper needs to be a size bigger or smaller, all items are exchangeable, including anything that was purchased for a processing fee. The customer need only fill out the enclosed form, send back the garments to be exchanged, and Kymaro will send the new size at no extra charge. Every Kymaro Body Shaper is also backed by a 30-day money-back guarantee less shipping, processing, and handling. If the customer wishes to return the top for a full refund, she may keep the Kymaro Cami and bottom shapers, if she also ordered them.

"Our customers love the Body and Bottom shaper, but we had several requests for a Body Shaper that had thinner straps and a lower back. We consulted with our designers and came up with the Kymaro Cami," said Romy Fazeli, Kymaro Spokesperson. "Now customers have the chance to buy 3 different shapers that complement each other. And best of all no one will know you are wearing any of these shapers, they can be worn discreetly under even the latest fashions!"

The Kymaro Body Shaper is just one of the many helpful health and beauty aids available from Kymaro. Kymaro also offers Curve Control™ Jeans that flatter fuller figures. The unique denim weave contours the body and does what the Kymaro Body Shaper does, but in a jean.

Kymaro also has products to flatter the bustline with the Kymaro Bust Up Cups, which fit into any bra to create fuller, firmer looking breasts and lift a sagging bust line. The Kymaro Backless Bra is another popular bust enhancing product that offers full coverage without any strap lines. Kymaro also offers a line of eyelash extensions popular with glamour girls.