International retailer strengthen its presence in Saudi Arabia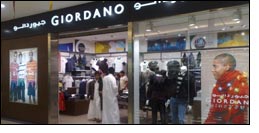 Giordano celebrated its 53rd location in the Kingdom of Saudi Arabia with the opening of the latest store at LuLu Center, Al Khobar. The international retailer also announced plans to open two more stores by Dec 2009, at Dana Mall in Tabuk and in Yanbu.

"Giordano's growth within Saudi Arabia continues to be strong, reflecting the brand's equity and customer confidence. Saudi Arabia remains one of our fastest growing sectors and still has vast potential for further expansion," said Mr. Hani Abdul Aziz Saab, the Director General for M/s TAGS LTD - Giordano Fashions.

Commenting on Saudi Arabia's expansion plans, Ishwar Chugani, Executive Director, Giordano ME, said that KSA continues to be a focal point for the brand's development in the region, "Giordano ME has been able to adapt and persevere during the hurdles that 2009 has presented and we have remained steadfast to increase our store count and reach our objectives. Saudi Arabia's consumer habits have shown very little change with regards to spending in our stores and we are confident our revival of the essentials will help maintain our good relationship with our customers and attract new ones," he added.

The new store at LuLu Center is 614 square feet and will house all Giordano essentials with a feature wall of the season's wardrobe must haves.

Giordano Fashions L.L.C.