SCC cyclists to wear Athletic Compression Socks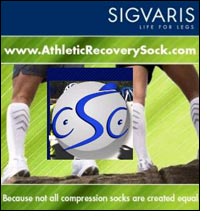 SIGVARIS, the global leader of graduated compression garments, will supply Southern Crescent Cycling Club (SCC) with the "Athletic Recovery", a sports compression sock for exercise-induced muscle soreness & post-practice recovery.

SIGVARIS, through the Athletic Recovery line of socks, already has strategic partnerships in place with established endurance sports organizations in North America, such as: Road Runner's Club of America (RRCA), USProTri, and the Cross Country Canada Olympic Team (CCC-skiing).

On October 29, 2009, SIGVARIS introduced a new Sports Compression Sock called "Athletic Recovery", an Active Therapy graduated compression sock designed to boost endurance, improve athletic recovery and peak performance. The compression sock-Athletic Recovery helps to flush out the lactic acids built up in the leg muscles during exercise, as well as relieve tired, aching legs and exercise-induced muscle soreness.

SIGVARIS created the Athletic Recovery for competitive athletes and weekend warriors as compression garments have become highly visible in all major sports. Whether it's during the actual event, after the event, or even while traveling, athletes are making graduated compression socks part of their everyday attire.

"As the global leader of graduated compression socks, we are very excited to be entering this new and emerging market segment of Athletic Recovery. SIGVARIS brings unequalled quality and expertise to a new demographic of competitive athletes and weekend warriors, many of whom may have been previously unfamiliar with graduated compression garments. The Athletic Recovery Line is the first SIGVARIS Sock in the new Active Therapy series, with several additional products to be introduced in 2010", said Jonas Thelin, Director of Marketing, SIGVARIS North America.

The Athletic Recovery is made of drirelease yarns to accelerate the water release rate of wet fabric, and includes environmentally-friendly FreshGuard to eliminate odors by blocking odor-causing sebaceous body oils from attaching to the fabric.

Additional Athletic Recovery features & benefits include:
• Lactic acid flush-out and relief of delayed onset leg muscle soreness
• Superior Athletic Sizing Assortment, comfort and fit with 50+ years of graduated compression sock expertise
• Patented drirelease and latex-free yarns with an embedded environmentally-friendly Freshguard treatment that virtually eliminates odors
• True Graduated Compression from the global leader of graduated compression socks

Southern Crescent Cycling is South Atlanta's first cycling club, started in 2006.

SIGVARIS North America is part of an internationally active medical device group headquartered in Winterthur, Switzerland that focuses on the development, production and distribution of medical compression garments, including hosiery and socks. With distribution in more than 50 countries on six continents, SIGVARIS is recognized as a global industry leader in the area of compression therapy for the management of venous and lymphatic disorders. Our US manufacturing plant is located in Peachtree City, GA. For more information, please visit www.sigvarisusa.com. SIGVARIS, LIFE FOR LEGS and the leg icon are registered trademarks of Ganzoni & Cie AG, St.Gallen/Switzerland and in many countries worldwide.