Stockholm designer J.Lindeberg styles Asian Tour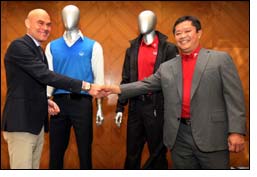 The Asian Tour will welcome a new Tour Partner following an exciting agreement with renowned Swedish designer premium apparel company, J.Lindeberg to become its Official Apparel Partner.

J.Lindeberg, the premium apparel brand that so successfully bridges fashion and function, will also create exclusive golf clothing merchandise for retail across Asia and provide a wide range of apparel designed for officials and staff members of the Asian Tour.

Through this new two-year partnership, J.Lindeberg will enjoy multiple opportunities to leverage its brand across the Asian Tour's media platforms.

A key aspect of the partnership will be the retail component which allows J.Lindeberg and the Asian Tour to benefit from retail sales of exclusive Asian Tour merchandise.

J.Lindeberg's partnership with the Asian Tour is an extension of its commitment towards golf where two-time US PGA Tour winner Camilo Villegas of Colombia and six-time European Tour winner Niclas Fasth are amongst the leading international golfers who are part of its sponsorship stable of sports personalities and celebrities.

"J.Lindeberg has established its prestigious Fashion and Golf line in North America, the UK and mainland Europe since many years and is present in many of the world's best reference stores such as Harrods, Selfridges and Nordstroms and the most exclusive golf courses from St Andrews to The Riviera Country Club in Los Angeles . In recent years the company has seen its Asian presence increase with distribution in Japan, South-east Asia and South Korea"

"Over the past two years, we have invested a lot of time in finding the right partners to further grow our brand and our partnership with the Asian Tour is the perfect fit for us to achieve our goals," said Stefan Engström, CEO, J.Lindeberg.

"Asia is without a doubt a market with tremendous potential for J.Lindeberg to expand our exclusive golf and fashion lines. We pride ourselves as being a trendsetter in our industry with individual innovation and style and we are delighted to work closely with a partner such as the Asian Tour which is in an exciting development phase.

"Professional golf in Asia is growing immensely under the stewardship of the Asian Tour and the timing is right for us to do more in this region. This sponsorship is also another opportunity to reinforce our commitment and support towards professional golf," added Engström.

Asian Tour Executive Chairman, Kyi Hla Han was pleased to announce the partnership.

"We are delighted to welcome J.Lindeberg as an Asian Tour partner. With J.Lindeberg's proud tradition in mixing technology and materials with sports, the Asian Tour is delighted to be associated with J.Lindeberg as the game of golf is also highly technically driven," said Han.

"We also see this as a perfect opportunity for the Tour to be dressed in fashionable and trendy manner as we embark on the new season ahead," added Han.