Terrible fit from high street bras, do it properly or don't – Which?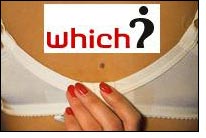 Which? has busted high street stores' bra fitting services after an undercover investigation. Fewer than 1 in 3 shops measured up and no service was good enough to recommend.

Which? sent 11 researchers, aged 25 – 75 with a DD cup size or larger, to 70 specialist and high street stores. A quarter of the fittings were appalling - our experts suggested the volunteers could have been better 'picking something off a market stall'.

Some of the women were sold wildly different sizes by different shops, in one case this varied by seven sizes from a 34FF to 40D. Another was sold the same bra in two House of Fraser branches, but in sizes 34C and 34F. Both were deemed a terrible fit.

A 30 and a 75-year-old, despite the age and requirement difference, were sold the same Wonderbra-style bra in La Senza – it fitted neither.

Badly fitted bras don't just look awful – they can also cause or exacerbate neck, shoulder and back ache and poor posture.

Top scores still not worth recommending
John Lewis and Bravissimo received the best overall scores, but still weren't good enough to recommend.

Which? spokesperson Jenny Driscoll said: 'Whatever their bra size, women want to look good and feel good. Heading to the high street for a fitting might seem like a simple solution, but our results were shocking - one bra was so poorly fitted there was room for a pair of socks in the cups!

'If stores are going to offer this service they need to up their game: do it properly or don't do it at all.'

Which?