New apparel & fabric to attain Japanese demands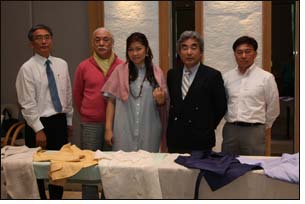 The Thai textile and apparel industry is very enthusiastic about enhancing its export capability in response to rising competition and expanding trade opportunities raised by effective FTAs. A part of this move, the project "Textile and Apparel Development for Export to Japan under JTEPA Framework" run by The National Federation of Thai Textile Industries is making good progress, with many new and innovative developments in the textile and apparel industry to be on display at BIFF&BIL 2010 in April this year.

Mr. Dej Pathanasethpong, Chairman of the National Federation of Thai Textile Industries, said: "Initiated under the Japan-Thailand Economic Partnership Agreement, or JTEPA, this project is mostly funded by Japan's Ministry of Economy of Trade and Industry (METI) who has sent specialists to advise participating Thai manufacturers on marketing strategy, opportunity, strengths and weaknesses, fashion trends and manufacturing techniques. The specialists include Mr. Shigeru Furumiya, marketing specialist from Japan Textile Importer Association (JTIA), Prof. Tadao Takeuchi, fashion trend specialist from Bunka Fashion College and Mr. Akio Homma, dyeing and finishing specialist.

The bilateral collaboration has enabled Thai manufacturers to acquire profound understanding of the Japanese market requirements, and to deliver export products exactly tailored to seasons, target consumers, and expected Japanese standards involving colour, material, design, as well as look and feel. The project first started in mid 2009 and will continue for long term under the JTEPA agreement."

Mr. Jumnong Nawasmittawong, Executive Director of Thai Garment Manufacturers Association and the Project's manager, explained: "The Project is specially destined to develop fabrics and apparels for export to the Japanese market for Spring/Summer 2011 focusing on the high-grade casual wear segment. There are 12 Thai manufacturers participating in the project, 6 from weaving industry, 3 from dyeing and finishing, and 3 from apparel manufacturing. The project implementation takes 9 months, starting from July last year and will be complete in March this year."

He continued, "All fabrics and apparels developed from participating manufacturers will be on show for the first time in the Japan Pavilion at BIFF&BIL 2010 in April this year. The Pavilion will also exhibit 20 costumes created by designers of Bunka Fashion Graduate University in Japan using the new fabrics from the project."

The development process in the project started with Thai manufacturers' representatives being sent to Japan in July 2009 to do research on the Japanese apparel market and find useful fabric samples according to the advice of designated Japanese specialists. At the same time a team of Japanese specialists was sent to Thailand to visit weaving, dyeing and finishing factories where they gave advice for further improvements. From here weavers and dyers joined in carrying out experiments and finalising their best possible fabric samples, and sent them to apparel factories who made finished products as guided by the specialists.