Abboud to be official apparel partner of New York Giants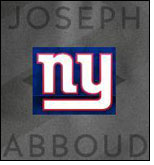 Joseph Abboud the celebrated American clothing brand announced a three-year partnership with the National Football League's New York Giants to be their nationally recognized official designer apparel partner. The announcement is an historic "first" not only for both brands but also for their respective industries. The partnership marks the first time a national professional sports team and a designer apparel company have collaborated on a marketing program of such importance and scale.

The relationship will enhance both brands' national visibility and underscores Joseph Abboud's strategy to reinforce its American heritage and appeal to its core consumers' interest in sports. Later this year, Joseph Abboud and the Giants will celebrate their ground-breaking collaboration with a dramatic launch featuring players, legends and coaches at the Giants' soon-to-open New Meadowlands Stadium, which is the largest privately financed stadium in U.S. history.

"Today's announcement marks a significant occasion for us as a global brand," said Marty Staff, President and CEO of JA Apparel Corp., the parent company for Joseph Abboud. "Joseph Abboud has a long-standing tradition of celebrating America we manufacture all of our suiting in our New Bedford, MA factory. By joining forces with one of the National Football League's most iconic teams, the New York Giants, this partnership further reinforces our connection to America through the country's beloved pastime of football."

According to Steve Tisch, Chairman and EVP of the New York Giants, "Seldom do you have the opportunity to align two iconic brands in a partnership this unique."

"We are proud to announce this innovative partnership with Joseph Abboud. We look forward to a great relationship for years to come," continued John K. Mara, President and CEO of the New York Giants.

The Partnership Program will also include the following marketing opportunities at the New York Giants' new stadium:

• Dedicated Joseph Abboud luxury suite where targeted clients, VIPs and opinion leaders will be entertained for all games and events, and broadcast using social media.
• Pregame Joseph Abboud branding on all suite-level HD monitors.
• Access to Giants' database of 160,000+ fans for direct brand communication and exposure.
• Introduction, presentation, and education of Joseph Abboud apparel to New York Giants Rookies during mini camp.
• Use of Giants' new stadium and facilities for Joseph Abboud private events, such as "Made to Measure" activities, hosted for fellow Giants luxury box holders, corporate sponsors, season ticket holders, and Giants' corporate staff and players.

"Joseph Abboud has been strategic in all of its partnerships but one thing remains consistent, we always make sure we are reaching our target audience," Staff continued. "One thing we know is that the Joseph Abboud customer likes sports. I cannot think of a betterway of achieving this goal than aligning our brand with the New York Giants."