KENTWOOL gains traction in the golf apparel market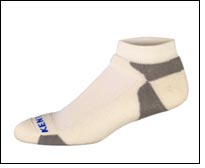 When 5th generation corporate leader Mark Kent committed his textile-based company to undertaking a unique journey to create what is now dubbed as "the world's best golf sock", the energetic CEO of KENTWOOL did not know exactly where that ambitious pathway would take him. If the first three months are any indication, he and his Upstate South Carolina-based team are in for a very interesting trip. According to Kent, "It's been a heckuva ride so far, and we're in it for the long haul. We're grateful that we've enjoyed some early success, we've learned a whole lot very quickly, and we're having loads of fun 'rocking the socks' as my social media team would say!"

Bubba Watson, one of the PGA Tour's longest hitters and KENTWOOL's newest professional golf team member, joined Kent for a round of golf at Greenville's Chanticleer Course in mid-April. As word of Watson's unexpected appearance hit the streets, the pairing drew a small crowd of onlookers and photographers that thrilled at Watson's ability to drive the course's par four 18th green. As a young woman serving refreshments admired Mr. Watson's play on the famously difficult layout, she asked if his name was indeed "Bubba" and what he did for a living. Watson smiled and light-heartedly replied, "Yes it is, and I sell socks."

And while Kent and Watson were teeing-it-up in their friendly match, Golf Digest's May issue was concurrently hitting the stands with a KENTWOOL product feature. Kent and Golf Development Director, Gil Patrick, were all smiles as they learned that the top-flight magazine's Fashion Director, Marty Hackl, included KENTWOOL TOUR golf socks in his "Cool Looks" article which describes "must have" 2010 best-in-class golf apparel. Along with KENTWOOL, the article also included perennial performance clothing giants Adidas and Nike. Not bad company for the 166-year old textile firm to be keeping in its first 90 days of tackling the formidable golf apparel industry. Golf Digest's positive plug for KENTWOOL is only the latest of several 3rd party written accolades for the KENTWOOL sock product which is rapidly becoming known for its integrated foot technology system and extraordinary comfort.

The fact that one of the PGA's well known up-and-comers traveled to Greenville to spend the day with KENTWOOL executives while one of the sport's leading publications was simultaneously offering an unsolicited endorsement of KENTWOOL's golf sock product line – branded as the "the unexpected edge" – says much about the Upstate SC company's early foray into the arena of golf apparel and consumer sales. Watson is part of a growing roster of eight professional golfers from around the globe that have signed on with KENTWOOL as a team member or endorser – including other recent additions Kevin Johnson, Charles Warren, and Jonathan Byrd. They are joined by LPGA and Ladies European Tour rising players Kristy McPherson and Australian Sarah Kemp respectively, along with Nationwide player Dustin Bray, and Futures Tour players Jenny Gleason and England's Anna Scott.