Cabela's Q1 comparable store sales decline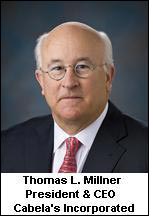 Cabela's Incorporated reported record first quarter fiscal 2010 financial results.

For the quarter, adjusted for divestitures, total revenue increased 5.1% to $559.6 million; retail store revenue decreased 1.5% to $271.3 million; direct revenue increased 2.1% to $222.7 million; and comparable store sales decreased 1.7%. The divestiture of Van Dyke's taxidermy business and Wild Wings in late 2009 accounted for $7.1 million of revenue in the first quarter of 2009. A detailed reconciliation is provided at the end of this release. Financial services revenue increased 77% to $60.0 million primarily due to higher interest and fee income of $9.0 million and a lower provision for loan losses of $8.0 million.

"We are encouraged with our revenue growth for the quarter, and in particular, revenue growth in our direct segment, which increased for the first time in six quarters due to growth in Internet sales," said Tommy Millner, Cabela's Chief Executive Officer. "As we anniversary the period of strong sales of firearms and ammunition, we have been pleased that sales declines in these two categories have been less than expected. Additionally, we are pleased with the sales increases we are seeing in other areas of our business, such as fishing and marine, camping, footwear, optics and gifts and furnishings."

"We are very pleased with the operating results we achieved during the quarter and our continued progress on our areas of strategic focus," Millner said. "As we have previously discussed, our strategic initiatives are to improve retail profitability, increase returns on invested capital, improve inventory turns and increase Cabela's brand loyalty through the operations of World's Foremost Bank. Internet sales were a special standout during the quarter. As the Internet continues to be the growing, preferred shopping channel for our direct customers, it is encouraging to see us capitalize on this trend. Additionally, ongoing improvements in catalog productivity as well as improved operating efficiencies in our retail stores contributed to expense reductions in the quarter."

Merchandise gross margins were lower than last year, but improved sequentially throughout the quarter; a trend that has continued into the second quarter. The Company continued to tightly manage inventory levels and realized a 22% reduction in inventory levels compared to the first quarter of 2009.

For the quarter, consolidated operating income increased 29.3% to $15.9 million compared to $12.3 million in the first quarter of 2009. Operating margins increased 50 basis points to 2.8% compared to 2.3% in the first quarter of 2009. Increases in operating profit were due to the strong performance of World's Foremost Bank, improved catalog productivity in the direct segment and lower labor costs in retail stores. For the quarter, net income increased 57.8% to $8.1 million, or $0.12 per diluted share compared, to $5.1 million, or $0.08 per diluted share, in the first quarter of 2009.