IZOD & Macy's showcase speed & style to celebrate Indy 500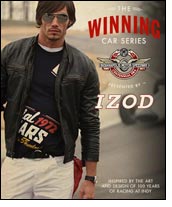 Phillips-Van Heusen Corporation announced that the Indianapolis 500, the flagship race of the IZOD IndyCar Series, will take center stage at Macy's this month via "In Pursuit of Fast," a series of exhibits sponsored by its IZOD brand in partnership with Macy's and the Indianapolis Motor Speedway, to celebrate the 2010 Indianapolis 500. The focus of the exhibits - speed, stars and cars, and iconic design fashioned throughout a century of American racing - will be showcased at Macy's stores in New York City, Indianapolis and Chicago. Complementing the exhibit is a collection of limited-edition IZOD IndyCar Series apparel available exclusively at Macy's stores nationwide.

The second annual "In Pursuit of Fast" exhibit comes to life through original photo collections, graphic designs and priceless race cars and memorabilia from the Indianapolis Motor Speedway Hall of Fame Museum's collection. The exhibit tells the story of IZOD IndyCar Series racing and the Indianapolis 500. Each store will feature one of a kind priceless cars and custom-built installations showcasing the race's legendary past as it connects to the next generation of high-speed superstars - along with the limited-edition collection of IZOD/INDY clothing inspired by the museum's archives.

"There are few events that have the profile and broad appeal of the Indy 500," said Jeff Gennette, Macy's Chief Merchandising Officer. "PVH has built a dynamic partnership between its IZOD brand and the Indianapolis Motor Speedway to celebrate this great event, and Macy's is the ideal place to bring this exciting experience to customers across the country. Over the next few weeks, some of the top drivers of the 2010 Indy 500 will make appearances at select Macy's stores, and we have rolled out exclusive race-inspired apparel that captures the speed and style of this iconic sporting moment."

Starting on May 20, Macy's Herald Square, New York City's most iconic department store, will host "In Pursuit of Fast" on its floors and in its famous Broadway and 34th Street windows. The exhibited items will feature past Indy 500-winning cars including the 1964 Sheraton-Thompson Watson/Offy, 1968 Rislone Eagle/Offy, 1972 Sunoco McLaren/Offy, and 1996 Bryant in the Broadway windows, as well as the 1979 Norton Spirit, 1961 Cooper Climax, 1953 Dean Van Lines Special, 1925 Miller Junior 8, and 1960 Kelso Auto Dynamics Special in the Main Aisle and Men's Shop.

On May 25 starting at 1pm EDT, just five days before the Indianapolis 500, Macy's and IZOD will welcome the top drivers of the 2010 Indianapolis 500 to Herald Square for interviews and an autograph session. The drivers, who will be dressed in their Race Day uniform, hail from a multitude of countries - including three-time Indianapolis 500 winner Helio Castroneves of Brazil, 2009 IZOD IndyCar Series champion Dario Franchitti of Scotland, current IZOD IndyCar Series points leader Will Power of Australia, two-time IZOD IndyCar Series champion Scott Dixon of New Zealand, and, from the United States, Danica Patrick, the first woman to win an IndyCar car race, and 2008 Rookie of the Year, Ryan Hunter-Reay, who is sponsored by IZOD. 1969 Indianapolis 500 winner Mario Andretti will also appear.