INDIA KNIT FAIR concluded successfully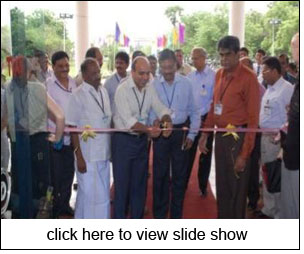 The INDIA KNIT FAIR organized by Apparel Export Promotion Council sponsored by the Ministry of Textiles, Government of India, in collaboration with Tirupur Exporters' Association under the umbrella of India Knit Fair Association (IKFA) was held from 21 – 23 April, '10 at India Knit Fair Complex, Tirupur, India.

Proceedings of the fair started with EXPORTERS' MEET. The meet was attended by a fairly good number of exporters. Chairman, IKFA & KTM Padmashri A.Sakthivel extended a warm welcome. He termed the initiative to establish the Knitwear Technology Mission as a historic one and a boon for Knitwear Exporters. This would help the industry in a big way. With a new fabric base we will be able to cater to a larger market. With the establishment of KTM we will be able to utilize different kinds of yarn etc. and produce different kinds of wears and compete with countries like China, Taiwan etc. he observed.

In his presidential address Mr.Premal H Udani, Chairman, AEPC said AEPC has planned to increase the productivity of Indian garment industry with the help of Clothing Industry Training Authority (CITA), based in Hong Kong. They will train the trainees and experts of knitwear industry to increase the productivity by implementing latest technology.' AEPC is also looking for new markets developments in Japan, South Africa and Latin America and will try to get best terms of trade through bilateral negotiations he added Shri. J. Chandrasekaran, Chief General Manager, State Bank of India, Chennai Circle,extended his felicitations and assured support of the Bank to promote exports of Knitwear Industry Shri.G.Karthikeyan, Secretary, Tirupur Exporters' Association proposed the vote of thanks.

INAUGURATION OF 30th IKF.
The event was organised on 21st April,, 2010 at IKFA complex, Tirupur and it was inaugurated by Shri Premal H Udani, Chairman, AEPC in the presence of Padmashri A.Sakthivel, Chairman, IKFA, Shri. J. Chandrasekaran, Chief General Manager, State Bank of India, Chennai Circle and Shri.G.Karthikeyan, Secretary, Tirupur Exporters' Association participated amongst others.

The India Knit fair displayed wonderful Spring-Summer collections 2011 and included knitted garments made of organic cotton, bamboo fibres, cotton blends, viscose, cotton/elastane, poly/cot meant for men, women, children's wear and home textiles in various styles and designs.

Knitted T shirts, improved fit cotton polo shirts, slug & suede shirts, layered pullover, nightwear, under garments, ladies tops, pujamas, knitted pants, garment dyed tops were some of the products showcased. Garments of jacquard knits, 3D prints,burnout & digital designs, Tie & Dye, sequencing, wrinkle finish, embroidery designs were the attractions. For the first time, fashion garments printed with Tamil scripts and also images of the well known great Tamil Poet 'Tiruvalluvar' have been displayed at the stalls.