Launch of 'wac' by Wrangler Apparel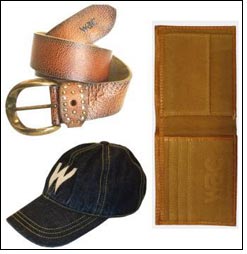 After successfully creating a following for its rugged casual wear, Wrangler launches its first line of accessories – wac by wrangler apparel corp. The debut collection consists of caps, belts, wallets and socks that complement the rest of the clothing on offer.

Leather belts with large buckles, canvas loop belts, caps with distress prints in durable drill, trucker caps, wallets in weathered leather, ankle socks in muted shades – it's all there to help create a look that is distinctly Wrangler from top to bottom.

The range will be available across all Wrangler exclusive stores from May 1, 2010 and at select multi-brand outlets as well.

The heritage of Wrangler goes back literally a hundred years to 1904 when its original manufacturers - the Blue Bell Company was founded. Since then, Wrangler continues to inspire freedom, independence and self-reliance in its wearers. Wrangler was the first modern day five pocket jeans to be test-fitted and endorsed by real-life cowboy rodeos. The brand in India has come a long way, from a cowboy image it has today truly evolved to an "Urban Cowboy" image which is contemporary, fashionable yet rugged.

Wrangler Apparel Corp.