UNIDO commends Brandix Green Factory as global model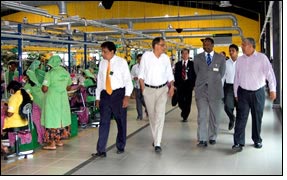 The United Nations Industrial Development Organization (UNIDO) has commended the Brandix Group's Platinum-rated Green Apparel Factory at Seeduwa as an example of sustainable production to manufacturers across industries and geographical boundaries.

The endorsement came from no less a personage than the global head of the organization, UNIDO Director General Dr. Kandeh Yumkella, who toured the state-of-the-art facility in the company of senior officials from Brandix and UNIDO on Friday, 11th June. He was in Sri Lanka to deliver the keynote address at the 9th Asia Pacific Roundtable for Sustainable Consumption and Production.

Commenting on his visit to the Seeduwa facility, Dr. Yumkella said: "Promoting clean and sustainable industrial development is at the heart of everything that UNIDO advocates and implements globally. We are pleased to note the commitment to environmental sustainability that is built into the Brandix Green Factory at Seeduwa."

"As the world's first Platinum-rated eco-friendly apparel manufacturing facility, it is truly unique and I am therefore pleased to recommend this factory as an example of sustainable production to manufacturers across industries and geographical boundaries."

Responding, Brandix Director Ajit Johnpillai said: "Brandix is privileged to host an eminent global advocate of sustainable industry of the stature of Dr. Yumkella. The Brandix Group is working closely with UNIDO on a Chemical Leasing initiative that will also contribute to sustainability and we are deeply appreciative of the organization's assistance and cooperation."

The UNIDO delegation which visited the Brandix Green Plant included Dr. Wilfried Luetkenhorst - Managing Director - Regional Strategies and Field Operations Division, Dr. Chin Pen Chua - Chief of the Asia-Pacific Programme, Ms Ayumi Fujino - Representative and Head of Regional Office in Thailand, Dr. Lalith Goonatilake - Director - Trade Capacity Building Branch, Nawaz Rajabdeen - National Director at the UNIDO Focal Point Office, Sarath Abeysundara - National Programme Coordinator - Integrated Programme, and S. H. Harischandra - Senior Assistant Secretary to the Ministry of Industry & Commerce.

The delegation was accorded a complete tour of the Green Plant and hosted for lunch at the Brandix Centre of Inspiration (BCI) at Ekala, a 250,000 square foot state-of-the art facility that is the Brandix Casualwear cluster's one-stop point for design to delivery solutions.

The Brandix Group's numerous initiatives to reduce Greenhouse gas emissions at manufacturing locations are on course to reduce the entire Group's carbon footprint by 17 per cent by December 2010. The Group's target is to reduce its carbon footprint by 30 per cent over the next two years.

The first apparel manufacturing facility in the world to be rated Platinum under the Leadership in Energy and Environmental Design (LEED) Green Building Rating System of the US Green Building Council (USGBC), the 130,000 square-foot Brandix Eco Centre is the Group's lead manufacturing plant for Marks & Spencer. It is a global benchmark for low energy consumption, water conservation, solid waste management and low carbon emissions.