Outerwear further increased its penetration at Burberry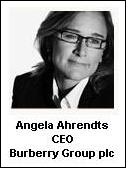 Burberry Group plc, the global luxury company, reports on trading for the three months to 30 June 2010.

• Total revenue up 24% underlying (up 30% reported)

• Retail sales up 16% underlying (up 21% reported)
o Comparable store sales growth of 10%
o Driven by outerwear and non-apparel
o Continued double-digit growth in Europe and Asia Pacific

• Wholesale revenue up 46% underlying (up 51% reported) in smallest quarter
o Q1 benefit from improved monthly flow of goods and supply chain efficiencies
o Unchanged guidance for H1 revenue of up high teens excluding Spain
o Significant growth in all regions except Europe where rationalisation ongoing

• Further strategic and operational progress
o Eight new mainline stores with emphasis on Emerging Markets
o Digital initiatives continued to drive awareness and sales in all channels
o Burberry Beauty launched in July to leverage further the Burberry franchise

Angela Ahrendts, Chief Executive Officer, commented:

"With double-digit sales growth in both retail and wholesale, Burberry has delivered a strong start to the year. The clear momentum in the business and our robust financial position together reinforce our confidence to increase investment for the future, while continuing to enhance the brand.

We plan to open between 20 and 30 stores in the current financial year, predominantly in the Americas and Asia Pacific. Our continued investment in industry-leading digital, service and product initiatives will further increase awareness, traffic and sales, to drive long-term profitable growth for all our stakeholders."

Retail
Retail sales in the first quarter increased by 16% on an underlying basis (up 21% reported). New space generated 6% of this growth.

Comparable store sales in the first quarter grew by 10%, with increased full price sell-through. This performance benefited from the consistent execution of group strategies:

• non-apparel was the strongest performing product division, with strength across all categories
• outerwear further increased its penetration
• average selling price increased again, partly reflecting implementation of the iconic pricing policy as well as significantly reduced sale activity
• April Showers, which was a small capsule designed in late January and in store by late April, drove sales as part of the strategy to introduce new products more frequently to customers
• digital initiatives increased awareness and traffic to both the stores and e-commerce. These included live streaming the Spring/Summer 2011 menswear show offering "click to buy", as well as the launch of Burberry Acoustic, which showcases emerging British music talent.

By region, double-digit comparable store sales growth continued in Europe and Asia Pacific, especially in the UK, Italy, Germany, Hong Kong and Taiwan. The Americas grew low single-digit as expected, as sale activity was significantly reduced for a large part of the quarter.