Point Blank to provide SWAT Four Star body armor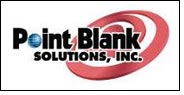 Point Blank Solutions, Inc., a leader in the field of protective body armor solutions, announced a new contract with Washington DC Metro SWAT to supply 90 tactical vests and related accessories, including leg armor and protective plates, among others. This latest contract was awarded to PACA Body Armor ("PACA"), the Company's wholly owned subsidiary and production will begin immediately at its manufacturing facility in Jacksboro, TN.

PACA will be providing DC Metro SWAT officers with its Four Star body armor solution, which is made using 100% DuPont Kevlar XP (KXPIIIA), DuPont's patented fabric technology that provides ballistic and trauma protection in a more comfortable body armor system and with greater bullet stopping power. Four Star was designed to address the strategic needs of law enforcement's most critical missions and is worn by thousands of officers across the country today.

It has been rigorously tested against special threats, including National Institute of Justice (NIJ) Level IIIA threat, the .44 magnum bullet, and also meets or exceeds Military V50 Specifications for Fragment Simulating Projectile (FSP) testing. Results consistently show that the system delivers unparalleled protection even under the most extreme field conditions.

Since its inception in late 2008, Four Star along with the Point Blank Body Armor equivalent Dragon Fire has been widely accepted by tactical communities and SWAT officers in particular, who face increasing street and institutional threats in their day-to-day missions. SWAT teams are trained to perform high-risk operations that typically fall outside the responsibility of regular officers, with duties including hostage rescues, counter-terrorism operations, high-risk arrests and search warrants, and engaging heavily-armed criminals.

Because of these higher level threat situations, SWAT officers require specialized weaponry and body armor systems and accessories. The Washington DC Metro SWAT unit marked the 16th SWAT agency that has purchased tactical armor with KXPIIIA this year, with other notable customers including Maryland State Police SWAT, Boston MTA SRT, Cherry Hill SWAT, Philadelphia SWAT, Buffalo SWAT, Albany SWAT, Riverside SWAT and Miami SWAT, among others.

"Developing life-saving solutions remains our number one priority and we are honored to have been selected by the DC Metro team to be their provider of choice for body armor systems," stated Michael Foreman, senior vice president, domestic and international sales. "Four Star and Dragon Fire with DuPont Kevlar XP have been in strong demand by the tactical community given their size, weight and flexibility as well as their proven performance in the most critical missions. We have made a strong commitment to provide officers with the most advanced systems in the market and now more than ever, with growing threat levels and new weaponry systems, officers need our products."

The Four Star and Dragon Fire tactical vests feature several exclusive technologies such as the Self Suspending Ballistic System (SSBS), Rapid Release System and the industry's only Bicep and Side Closure Plate Pocket Design - accommodating a variety of plates including the ultra lightweight, Special Threats Plate (STP).