Q2 net revenues up by 14% at Warnaco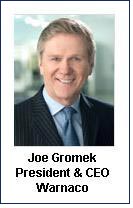 The Warnaco Group, Inc. reported results for the second quarter ended July 3, 2010.

Highlights for the quarter:

• Net revenues were up 14% from the prior year quarter
• Gross margin increased 270 basis points, to 44%, compared to the prior year quarter
• Income per diluted share from continuing operations increased 63% to $0.65 compared to $0.40 in the prior year quarter which includes the benefit of approximately $0.07 from the effect of fluctuations in foreign currency exchange rates
• Income per diluted share from continuing operations on an adjusted, non-GAAP basis was $0.71 compared to $0.47 in the prior year quarter (both of which exclude restructuring expenses, pension expense, costs related to repurchase of debt, certain tax related items and other items)
• The Company redeemed the remaining $110.9 million of its 8-7/8% Senior Notes on June 15, 2010
• The Company's Board of Directors approved a new five million share stock repurchase plan

The accompanying tables provide a reconciliation of actual results to the adjusted, non-GAAP, results.

The Company believes it is valuable for users of the Company's financial statements to be made aware of the adjusted financial information, as such measures are used by management to evaluate the operating performance of the Company's continuing businesses on a comparable basis and to make operating and strategic decisions.

In addition, the Company uses performance targets based, in part, on non-GAAP operating income and diluted earnings per share from continuing operations as a component of the measurement of employee incentive compensation.

"We are very pleased with our second quarter results, which reflect the ongoing success of our global growth strategies," commented Joe Gromek, Warnaco's President and Chief Executive Officer.

"Broad based increases in our global Calvin Klein businesses, bolstered by the ongoing success of the Calvin Klein X Underwear campaign, complemented by gains in our heritage businesses drove double digit increases in net revenues, substantial improvements in gross margin and a significant increase in earnings per share. Key to our success has been the ongoing focus on innovative product and marketing that speak to the needs of our customers around the globe."

"We believe that great product, combined with our disciplined execution across all facets of our business, from design to supply chain to sales and marketing, leave us well positioned to continue the favorable momentum in our business. With strong wholesale bookings and continued positive results from our direct-to-consumer expansion, we look forward to a powerful second half."

"As we look further ahead, we believe our powerful brands, strong balance sheet and diversified global operations provide us with a unique platform from which to sustain long-term revenue and profit growth for the benefit of all Warnaco stakeholders," concluded Mr. Gromek."