Equmen Precision Socks for long haul business traveler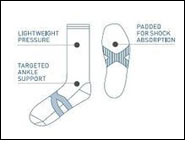 Deep Venous Thrombosis is a condition in which a blood clot works its way into the heart or lungs, often leading to sudden death. Otherwise known as DVT or Economy Class Syndrome it is frequently caused by long periods spent in cramped conditions.

Tightly packed seating – such as that found in the economy class section of airliners – can restrict movement and trigger the clot illness. On a long flight, lack of circulation and reduced air pressure means that blood can suddenly change from a liquid to a solid state and produce a clot. Economy Class Syndrome, unlike the name suggests is equally prevalent in business class and first class passengers.

There is widespread debate over what actually happens to cause the blood clots and the number of people that are actually affected. However, a new compression sock recently unveiled in the market has proved to assist in the prevention of Economy Class Syndrome. Equmen Pty Ltd is an Australian owned company, are the manufacturer of these business traveler compression socks using technology developed from research over the past four years.

Equmen Precision Socks were designed initially for the long haul business traveler to assist in reducing symptoms of jetlag, limb swelling and to help prevent blood clotting during long distance travel.

The Equmen Precision Sock is a lower-leg molded garment with 90% Nylon and 10% Spandex content and contoured to fit for optimum compression when the wearer is seated. It is designed for otherwise healthy travellers.

The garment works by making up for the difference in pressure upon the body at altitude. It is directed to jet lag (suffered by 90% of all passengers) and reducing the risk of DVT (allegedly 10% in the high risk groups) of all passengers. This amazing unisex sock caters for all travellers and available in one size fits all.

Equmen Precision Socks are positioned as necessary travel clothing - 'the only true business sock of its kind to overcome jet lag and reduce the risk of dvt' and is messaged as 'the best kept secret for the business traveler'.

They are targeted to all passengers, but with a specific push to business and first class passengers. Already 12% of an aircraft is dedicated to business and first class and that is the target market group. There is a strong need to educate the consumer concerning the total benefits of the product as opposed to limitations by competitors from the medical field.

Alister McColl, CEO of Equmen, says, "We do know wearing compressive socks reduces the risk of DVT substantially, and is a way for the traveller to take appropriate action for their own health and safety. It does not matter who is responsible, people just want to know how to reduce the risk".

McColl also points out that "on long haul flights people have to get some sleep, and sometimes because of turbulence or other factors, you cannot always get up to do the required exercise. Wearing compression socks overcomes this problem". By reducing swelling, keeping blood flowing and assisting hydration, Equmen Precision Socks assist in reducing many of the symptoms of jetlag and allow the body to refresh more quickly.