Lojas Renner opens store in Central-Western region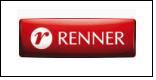 Lojas Renner S.A. announces to the market in general and other interested parties the opening of a new store, on August 17th, in the Central-Western region of Brazil.

The sixth such opening in the year of 2010, it is located in Palmas – TO, in the Shopping Center Capim Dourado with a total area of 2,732 square meters.

Other five additional stores in the current format and three in the smaller format are planned to be inaugurated during this year.

Currently, Lojas Renner has 121 stores in Brazil, 37 of them in São Paulo, 16 in Rio Grande do Sul, 13 in Rio de Janeiro, 10 in Paraná, 7 in Minas Gerais, 7 in Santa Catarina, 5 in the Federal District (Brasília), 3 in Bahia, 3 in Pernambuco, 2 in Ceará, 5 in Goiás, 2 in Amazonas, 2 in Espírito Santo, 2 in Pará, 1 in Mato Grosso do Sul, 1 in Mato Grosso, 1 in Paraíba, 1 in Sergipe, 1 in Roraima, 1 in Rio Grande do Norte and 1 in Alagoas.

Lojas Renner S.A.