Nike Pro Combat System of Dress addresses sport's evolution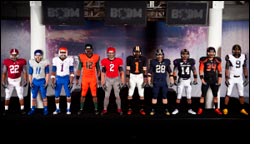 Nike unveiled high-performance Nike Pro Combat uniforms in new designs for 10 elite college programs that reflect the teams' traditions, character and culture.

Nike convened distinguished representatives associated with each university to deliver the uniforms' unique stories:

• Marty Lyons,Alabama: Crimson Tide All-America defensive tackle who played for Paul "Bear" Bryant's 1978 National Champion team and went on to an 11-year career with the New York Jets.
• Jerard Rabb, Boise State: Broncos wide receiver on the historic hook and ladder play that propelled Boise State to victory in the 2007 Fiesta Bowl.
• Errict Rhett, Florida: Led Florida in rushing yards all four seasons of his college career and played seven seasons in the NFL.
• Michael Irvin, Miami: NFL Hall of Famer and three-time Super Bowl championwho led the Hurricanes to a National Championship in 1987.
• Charles Csuri, Ohio State: Decorated WWII veteran and the father of digital art and animation, Csuri first made history as part of the 1942 Buckeyes National Championship team.
• Steve Preece, Oregon State: A key member of Oregon State's 1967 team known as the "Giant Killers," Preece went on to a successful career as defensive back with the Los Angeles Rams.
• Ruben Brown, Pittsburgh: A mainstay on Pitt's offensive line for four years, Brown played for the Buffalo Bills and Chicago Bears, starting in 181 games.
• Matt Lewis,TCU: Equipment Manager for the Horned Frogs who received the game ball after last year's 55-28 victory over Utah, when TCU debuted their '09 Nike Pro Combat uniforms.
• Col. Rock Roszak,Virginia Tech: Alum of Virginia Tech and the Virginia Tech Corps of Cadets, Roszak received numerous decorations during 27 years of active duty service in the U.S. Air Force.
• Bob Huggins, West Virginia University: Mountaineer alum and current head basketball coach, Huggins has one of the highest winning percentages in Division I basketball.

The Nike Pro Combat System of Dress
Each team will benefit from the lightweight innovation and flexible protection of the Nike Pro Combat System of Dress, but the similarities end there. Rendered in vivid color palettes and rich in cultural and historical motifs specific to the individual programs, each custom design tells a different story.

"The Nike Pro Combat System of Dress merges innovation and inspiration to deliver the lightest and most innovative uniform in the industry," said Kris Aman, Global VP and GM of Nike Athletic Training and Field Sports. "The designs incorporate cultural cues emblematic of each team's identity and heritage. They're more than uniforms, they're expressions of pride."

Nike designers studied each team's past, present and vision for the future. They immersed themselves in the community and culture of the universities. As a result, the special-edition uniforms capture the soul and spirit of each program.