Sales target surpasses - DOUGLAS Group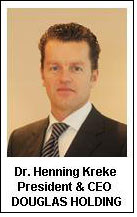 Based on its preliminary figures, the DOUGLAS Group increased its net sales by 3.7 percent to over 3.3 billion Euro in the 2009/10 fiscal year (10/1/2009 - 09/30/2010). The sales projection for the fiscal year was set at between 0 and 2 percent.

"Therefore, we have again slightly surpassed our sales target also in this fiscal year. Besides the favorable development in Germany, the first-time consolidation of buch.de since December 2009 also contributed to the pleasing sales growth", said Dr. Henning Kreke, President and CEO of DOUGLAS HOLDING.

"My very special appreciation is extended in particular to our roughly 24,000 employees, who with their friendliness, service readiness and passion, once again succeeded in sparking our customers' enthusiasm for the specialty retail stores of the DOUGLAS Group."

Like-for-like sales – which only include those stores operating during both current and previous fiscal years – exceeded the previous year's sales by 0.4 percent. The development here also proved to be better in Germany than abroad. "With this overall quite pleasing development, we succeeded in maintaining our key home market compared to our competitors and gained additional market share," further commented Dr. Henning Kreke.

The 1,205 Douglas Perfumeries increased its sales by 1.3 percent to nearly 1.9 billion Euro; thus, expanding its market leadership in Europe. In Germany, the 445 Douglas Perfumeries posted turnover of roughly 950 million Euro for an increase of 2.9 percent. Sales of the 760 Douglas Perfumeries abroad stood at over 930 million Euro, matching the prior year's level.

In the Books division, the Thalia group reported a sales increase of 10.4 percent to over 900 million Euro. This figure also contains the sales of buch.de, which was fully consolidated since December 1, 2009. The 289 Thalia bookstores posted a slight sales decline of 0.2 percent.

In Germany, Thalia (including buch.de) registered a sales plus of 9.6 percent to around 690 million Euro (excluding buch.de: -1.5 percent). Outside of Germany, sales (including buch.ch) climbed by 13.2 percent to 216 million Euro (excluding buch.ch: 3.8 percent).
The 204 Christ jewelry stores reported a sales gain of 6.1 percent to 310 million Euro; therefore, developing significantly better than the industry on the whole.

Given the persistently difficult environment, the 14 AppelrathCüpper fashion stores recorded a sales decline of 5.3 percent to 124 million Euro. This decrease is particularly due to the closure of the store in Berlin, whose sales had been included in the previous year until the end of January.

The 261 Hussel confectionery shops generated sales of roughly 100 million Euro or 1.6 percent behind the prior year's figure.

Outlook
"On the basis of the quite respectable sales development, we still expect to reach the upper end of our earnings target", said Dr. Henning Kreke. The DOUGLAS Group had set a target of operating earnings before taxes (EBT) of between 120 and 130 million Euro for the financial year under review (10/1/2009 - 09/30/2010).