Burberry says material improvement in gross margin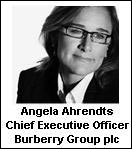 Burberry Group plc, the global luxury company, today reports on trading for the six months to 30 September 2010.

First half highlights

• Total revenue up 17% underlying (up 21% reported)

• Retail revenue up 20% underlying (up 24% reported)
o Comparable store sales growth of 9% - mainline stores up double-digit in both Q1 and Q2
o Material improvement in gross margin
o Outerwear and large leather goods drove about half of growth

• Wholesale revenue up 17% underlying (up 20% reported)
o Up 21% excluding China, slightly ahead of guidance

• Licensing revenue down 3% underlying (up 9% reported)

• Further strategic and operational progress
o Opened 20 mainline stores including two in India and first in Brazil
o Chinese retail operations acquired on 1 September 2010
- integration on track
- comparable sales for acquired stores up over 25% in first half
o Digital initiatives around shows in June and September increased awareness

• Looking forward, Burberry now expects
o About 25% increase in H2 selling space, of which about 15% is China
o About 10% increase in H2 underlying wholesale revenue excluding China
o Mid single-digit % decline in full year underlying licensing revenue, with improvement in guidance due to higher growth from global licences

Angela Ahrendts, Chief Executive Officer, commented:"The momentum at Burberry continues, with 21% revenue growth and a material improvement in the gross margin in the first half. While mindful of our strong second half last year, we currently expect adjusted profit before tax for the full year to be in the top half of market expectations. Continued product innovation, digital and customer service initiatives, coupled with the recent acquisition of our Chinese retail operations, underpin our confidence in delivering long-term sustainable growth."

Retail
Retail sales increased by 20% on an underlying basis, up 24% reported (2009: £294m). New space generated 7% of the underlying growth, while China, which transferred from wholesale to retail from 1 September 2010, contributed 4%. Comparable store sales increased by 9% in the first half (Q1: +10%; Q2: +8%), with mainline stores delivering consistent double-digit sales growth in both quarters.

Burberry's two core categories – outerwear and large leather goods – drove about half of this growth, with strong performances also from Prorsum, shoes and childrenswear. Digital catwalk show initiatives in June and September further increased brand reach and awareness. Replenishment, inventory and pricing strategies introduced during the second half of last year led to a material improvement in gross margin in this first half.

By region, Asia Pacific and Europe continued to deliver double-digit comparable store sales growth, with Hong Kong, United Kingdom, Italy and France among the best performing markets. As the Americas continued to focus on improving margins, comparable store sales in the region were broadly unchanged year-on-year. In addition to those stores acquired in China, Burberry opened twenty mainline stores in the first half, including Marina Bay Sands, Singapore, London Heathrow Terminal 5 and two further childrenswear stores in Hong Kong. There was an 8% increase in average selling space year-on-year excluding China.