Under Armour designs football uniforms for three universities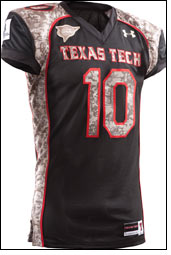 Under Armour, the Baltimore-based leader in sports performance apparel, footwear and accessories, announced the creation of unique college football uniforms for the University of Utah, Texas Tech University, and University of Maryland. This marks the second year Under Armour has designed custom uniforms to honor the U.S. Armed Forces, with cleats being a new addition for this year. The gear is part of the UA Freedom initiative, launched in July 2010 to support our nation's military and public safety heroes, and Under Armour's partnership with Wounded Warrior Project (WWP), a non-profit organization that provides programs and services for injured service members and their families.

The University of Utah Utes, Texas Tech University Red Raiders, and University of Maryland Terrapins will be outfitted in head-to-toe custom digi-camouflage Under Armour uniforms and cleats for their game day match-ups versus the Texas Christian University and the University of Missouri respectively on November 6, 2010. The University of Maryland Terrapins will feature their uniforms on November 20, 2010 against Florida State.

The uniforms were designed in an effort to recognize the sacrifices made by those who have served and those that continue to serve in our nation's Armed Forces. Each team will replace their last names on their jerseys with a core value embellishment – Duty, Honor, Courage, Commitment, Integrity, Country, or Service. Texas Tech is the official Under Armour Freedom game, and each Red Raider will have "Freedom" on the back of their jersey as a tribute the brave men and women that the initiative supports.

"The custom uniforms and gear provide us with an opportunity to engage college football fans and athletes, while uniting together to support the overall mission of Wounded Warrior Project," said Kevin Plank, founder and CEO of Under Armour. "We are committed to honoring our nation's troops who risk their lives protecting our house and we are proud to support them through these games and beyond."

The custom game day jerseys will be auctioned off on each of the Universities' websites the following Monday of each game with a 100% of the proceeds going to Wounded Warrior Project. Under Armour school-specific fan gear will be on sale at university bookstores and www.underarmour.com with a portion of the proceeds going to Wounded Warrior Project as well.

"Under Armour continues to believe in our mission of honoring and empowering wounded warriors. These games broaden our voice to universities and their athletic programs in a unique way," said Steven Nardizzi, executive director of Wounded Warrior Project. "The Under Armour teams wearing these specially designed uniforms and cleats will generate awareness of our organization and the men and women that continue to fight for our great nation."

Thousands of our nation's armed forces have been wounded during the current military conflicts. WWP assists wounded warriors and their families through a holistic approach to their recovery, providing programs and services to aid their physical rehabilitation and improve their mental health and well-being. WWP empowers warriors with essential tools to not just survive their injuries but to thrive and achieve personal and professional success.