Excellent volume performance of K-C Personal Care biz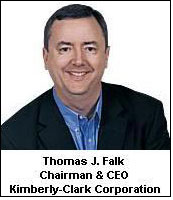 Kimberly-Clark Corporation reported that net sales in the third quarter of 2010 increased 1.3 percent to $5.0 billion. Organic sales rose 1 percent, driven by higher sales volumes of 1 percent, while net selling prices were even with year-ago levels.

The I-Flow Corporation acquisition completed in 2009 added an additional point of sales growth, while changes in foreign currency rates reduced sales by 1 percent. The growth in organic sales volumes was highlighted by a 5 percent gain for the company's personal care business, with broad-based strength in most regions of the world. However, volumes declined in the company's K-C Professional business in a challenging economic environment, and in Kimberly-Clark's operations in Venezuela.

Diluted net income per share for the quarter was $1.14 compared with all-time record results of $1.40 in 2009. Although performance benefited from organic top-line volume growth and significant cost savings, bottom-line results declined, primarily due to cost inflation of $265 million. Meanwhile, the company continued to invest to support its brands and future growth opportunities, as both strategic marketing and research and development spending increased faster than sales in the quarter.

Chairman and Chief Executive Officer Thomas J. Falk said, "We continue to execute our Global Business Plan strategies in a difficult environment. We leveraged innovation and targeted growth initiatives to deliver excellent volume performance in Personal Care, in most of K-C International and in higher-margin portions of Health Care and K-C Professional. Our financial and cost discipline led to another quarter of significant cost savings and shareholder-friendly deployment of cash flow.

"Finally, we continued to invest for the future, as we increased investment in strategic marketing and innovation again in the third quarter. On the other hand, the challenging business environment weighed on our bottom-line results more than we previously expected, with relatively soft market demand, cost inflation and slightly higher competitive spending. That said, I'm encouraged with our market positions and believe that we are doing the right things for the long-term success of our brands and our company."

Commenting on the outlook, Falk said, "We remain committed to managing those factors we control in the short-term and doing what's right for the long-run health of our business. We will continue to strengthen our brands, pursue our targeted growth initiatives and invest for future growth with higher levels of marketing and innovation spending. We have no plans to cut back on these key investments, and we continue to expect that strategic marketing spending will rise at a faster pace than sales in 2010.

"At the same time we will continue to leverage our strong financial discipline. We are aggressively reducing costs, with ongoing cost savings expected to easily exceed $300 million this year, and tightly controlling discretionary spending. Moreover, we remain focused on cash generation and allocating it in shareholder-friendly ways, and we now expect to repurchase $800 million worth of KMB stock this year, at the high end of our previous target.