Lojas Renner opens network's first compact store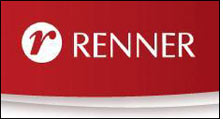 Lojas Renner S.A. announces to the market and other interested parties the opening on November 9 2010 of the network's first compact store which will sell an exclusively female line of products such as items of perfumery, accessories, footwear, lingerie and apparel.

Merchandise will be displayed in a differentiated shopping environment, attending those customers of the traditional store model in a more user-friendly manner. The compact store, located in the South of the country in the city of Caxias do Sul, state of Rio Grande do Sul in the San Pelegrino Shopping Mall, has a total area of 1,495 square meters and is the eighth to be inaugurated this year.

On the same date, Lojas Renner is to unveil one more traditional store in its network in the Northeast of the country. The ninth to be opened this year, the store is located in Salvador, state of Bahia, in the Salvador Norte Shopping Mall with a total area of 2,772 square meters.

Before the end of 2010, the Company plans the rollout of other three traditional format units and two more compact stores.

Lojas Renner S.A.