TJX raises growth potential estimates for Marmaxx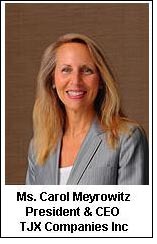 The TJX Companies Inc, the leading off-price retailer of apparel and home fashions in the U.S. and worldwide, today announced that it will consolidate its A.J. Wright division by converting 91 A.J. Wright stores into T.J. Maxx, Marshalls or HomeGoods stores and by closing the remaining 71 stores, A.J. Wright's two distribution centers and its home office.

This action is expected to improve the overall profitability of the Company, and will allow TJX to focus its managerial and financial resources on its larger, more profitable businesses, all of which have major growth potential, as well as to serve the A.J. Wright customer more efficiently. This action significantly increases the Company's estimates of the growth potential for T.J. Maxx and Marshalls. As a result of this action, a substantial number of positions will be eliminated.

Carol Meyrowitz, President and Chief Executive Officer of The TJX Companies, Inc., stated, "While I believe this move makes us a much stronger company and will benefit TJX in both the near-term and long-term, it was not an easy decision as many positions will be eliminated and it will be difficult for our affected Associates. As a Company, however, it will allow us to focus our financial and managerial resources on our highest return businesses, all of which have significant growth opportunities, as well as to significantly improve the economic prospects of our business.

"A critical factor in this decision is that, over the past two years, we have learned how to serve the A.J. Wright customer with our T.J. Maxx and Marshalls banners and have seen very strong performance from these stores in demographic markets similar to those in which we have A.J. Wright stores.

"We believe these markets represent an incremental growth opportunity for our Marmaxx division, and that this business now has the potential for 2,300-2,400 stores, 300-400 more than we had previously estimated. While this action will reduce our square footage growth in the near-term, due to the 71 store closures, we expect the square footage growth of our continuing operations to remain in the 5% to 6% range thereafter. In addition, with this growth, we would expect to continue to create thousands of jobs annually on a worldwide basis."

Organizational Impact
In connection with this action, 91 A.J. Wright stores will be converted to T.J. Maxx, Marshalls or HomeGoods banners. As a result, the approximately 3,400 Associates in these stores will remain employed by the Company, including the interim period of approximately eight weeks when the stores will be closed for conversion.

In total, across the United States, the Company estimates that approximately 4,400 positions will be eliminated as a result of this action, almost half of which are part-time positions. These Associates will have the opportunity to be compensated at least through the holiday season, and most will remain employed throughlate January. Further, TJX will be providing enhanced severance and other assistance following this period to help with the transition.