International revenues grow 14% at Lakeland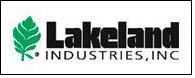 Lakeland Industries Inc announced financial results for its third quarter fiscal year 2011 ended October 31, 2010.

Management's Comments
Commenting on the financial results, Lakeland Industries President and Chief Executive Officer Christopher J. Ryan said, "Lakeland has delivered another strong quarter driven by growth in both international and domestic operations. For the last few years, the Lakeland story has centered on growth of faster growing international markets while the domestic market for our products had declined precipitously with outsourcing trends and the exporting of "dirty jobs" to nations with lower cost bases.

"This negative progression was later punctuated by the global recession and a severe pullback in the domestic auto industry. We are pleased to report that by most measures many of the economies around the world are recovering and the U.S. auto sector is rebounding, although unlikely to reach its previous levels.

"Lakeland's international revenues increased by 14% even though our Brazilian business was slightly lower year-over-year as it awaits awards on several large bid contracts. Importantly, we have strengthened our near term prospects through revenue and earnings visibility and our longer term growth strategies are gaining traction.

"Consolidated revenues increased by 18% for the third quarter to $26.3 million, which on an annualized basis is higher than any fiscal year revenue reported by the Company in its nearly 30 year history. We ended the third quarter with a backlog of $3.4 million in firm orders for domestic disposables, and deferred profits from our operations in China that should yield approximately $700,000 in pretax profit or $0.10 in net earnings per share.

"Domestic operations for Lakeland have improved since bottoming out with the recession. Of particular importance is the rebounding of the automotive sector for which we supply our products to manufacturers throughout the supply chain. Demand for products related to the Gulf oil spill has been abating, but we are seeing requirements pick up in other sectors of the domestic economy. Internationally, we are gaining traction in multiple markets around the world, with particular growth anticipated in China, Brazil, Mexico, Europe, Chile, Russia and Europe.

"With the majority of our target markets on an upward trajectory and the heavy spending on international operations behind us, staffing for management, sales and manufacturing positions is perhaps the most critical element for our success. Sales and marketing personnel have been added at our operations in China, India, Latin America, Kazakhstan and Russia.

"The teams have been making considerable inroads toward securing an impressive number of new product approvals and in setting up direct sales channels. Charges against earnings were taken earlier in the year and in the third quarter personnel changes that enabled us to improve upon our management teams in Brazil, India and North America.