BCB wins Wales Innovation Award for its Blast-Proof Boxers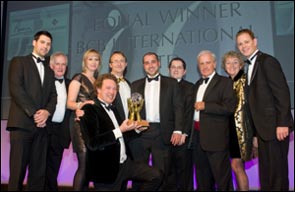 Cardiff-based firm BCB International has been named one of the most innovative businesses in Wales after designing a new item of protective gear for soldiers: blast-proof underwear.

The company, which provides servicemen and women with protection against blast injury to the groin and other lower body damage with its Blast Boxers, was named joint winner of this year's Wales Innovation Award 2010, alongside Aeristech Ltd, at the Wales Quality and Innovation Awards on December 2nd 2010.

BCB International Ltd is a designer and wholesaler of survival equipment based in Cardiff, South Wales. The company started in 1854 as a chemistry company that provided cough medicine to the troops during the Crimean war. From here the evolution of the company has seen it meet the demands and needs of millions of individuals in military, civilian and aid environments.

BCB is a family run company that currently has 50 employees at its HQ in Cardiff as well as approximately 50 international agents and representatives.

And it hopes its protective underpants, which cost £32.50, can now inspire other Welsh businesses to become more innovative.

Run by the Wales Quality Centre, in association with Penn Pharma and supported by Hugh James Solicitors, the Wales Innovation Award aims to identify Wales' most innovative organisations and is open to entries from the public, private and charitable sectors. This year's competition attracted entries from across Wales.

Judges were impressed by the calibre of this year's entries, but Cardiff-based BCB International stood out above the rest for its Kevlar underwear.

Will Hocking, head of research and development at BCB International, said: "If you see someone with an amputation, you often assume that is the only injury. But there can also be serious injury to the groin area, which obviously has a significant psychological and emotional impact as well as physical. It can destroy relationships and ruin lives.

"Our Blast Boxers protect servicemen and women from such injuries and are currently being used by British soldiers in Afghanistan. We hope they will eventually become standard kit for the military.

"The product itself has been about 18 months in development and production has started in the US from today, so it's gone international quite quickly.

"But the end goal isn't profit, it's the fact that we're helping people. That acts as a driving force for us to think outside the box and be innovative. It is a lot of pressure but getting positive feedback and letters of thanks from soldiers outshines any profit. Being part of this company makes us all proud to be Welsh.