Q1 results demonstrates power of NIKE growth strategy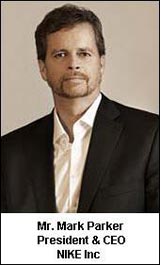 NIKE Inc reported financial results for its fiscal 2011 second quarter ended November 30, 2010. Earnings per share for the quarter were up 24 percent on 10 percent higher net revenue as NIKE, Inc. brands continued to experience strong sales in the marketplace and benefit from clean inventory positions while better leveraging SG&A expenses.

"We had a great second quarter. Almost every brand, category and geography delivered growth," said Mark Parker, President and CEO of NIKE, Inc. "We continue to outperform the market thanks to our innovative product, compelling brands and strong marketplace management. That's good for athletes and consumers, good for our industry, and it's good for our shareholders. Going forward, we're in the enviable position of having far more opportunities than challenges. I'm confident our strategies can continue to deliver sustainable, profitable growth."

Futures Orders

As of the end of the quarter futures orders for NIKE Brand athletic footwear and apparel, scheduled for delivery from December 2010 through April 2011, totaled $7.7 billion, 11 percent higher than orders reported for the same period last year with minimal impact from changes in foreign currency exchange rates compared to the prior year.

Second Quarter Income Statement Review

Revenues increased 10 percent to $4.8 billion. Excluding the impacts of changes in foreign currency, NIKE, Inc. revenue increased 11 percent. Revenues for the NIKE Brand were up 9 percent, or up 10 percent on a currency neutral basis, driven by growth in all seven NIKE Brand key categories except Sportswear, which was down slightly compared to the prior year, and every geography except Japan. Our Other Businesses revenues increased 13 percent, with a minimal impact from changes in foreign currency exchange rates, as Cole Haan, Converse, Hurley, NIKE Golf and Umbro all experienced growth during the quarter.

Gross margins improved 80 basis points to 45.3 percent. The improvement was due to a higher mix of full-price sales and fewer and more profitable close-out sales resulting from strong demand for our products and cleaner inventory positions, as well as improved profitability from our Direct to Consumer operations. These factors more than offset margin pressure from higher total freight costs, including additional airfreight costs incurred to meet strong demand for NIKE Brand products.

Selling and administrative expenses were up 9 percent to $1.6 billion mainly due to operating overhead, which increased 14 percent to $1.0 billion. This increase was a result of additional investments made in both our wholesale and Direct to Consumer businesses, higher performance based compensation expense and meeting and travel expense increases given comparisons to reduced levels last year. Demand Creation spending was inline with the same period last year at $574 million.

Other income was $28 million, comprised largely of non-recurring items and net conversion gains primarily on currency hedges. For the quarter, we estimate the year over year change in foreign currency related gains included in other income, net combined with the impact of changes in foreign currency exchange rates on the translation of foreign currency-denominated profits had an insignificant impact on pretax income.