NRF Award Winners announced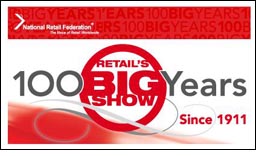 The National Retail Federation is pleased to announce that executives from Nordstrom, The Container Store, Urban Outfitters and Sir Philip Green of Arcadia Group (which includes Topshop, Wallis and Burton) are the recipients of its prestigious annual awards. The recipients will accept their awards during the Annual Retail Industry Luncheon at NRF's Annual Convention and EXPO on Tuesday, January 11, 2011. NRF's BIG Show will be held at the Jacob Javits Center in New York City, January 9-12, 2011.

"In this highly competitive industry, it's important for retailers to break away from the mold and push their company to new heights," said NRF President and CEO Matthew Shay. "Every year we search to find those who continue to do just that. We applaud each of this years' winners and are thrilled to honor them in front of their peers."

Gold Medal Award: Kip Tindell, Chairman and CEO, The Container Store
The Gold Medal is the most coveted award in retail, given to individuals who have served the industry with distinction and achieved a national reputation for excellence. The recipients have also displayed creative genius and inspirational leadership and have won the respect of fellow merchants for devotion to the retail craft.

Tindell has been at the helm of The Container Store since it first opened its doors in Dallas in 1978 – creating the first ever store devoted solely to storage and organization products. With 49 stores nationwide, a thriving Web site and 2010 sales projected at $560 million, Tindell continues his commitment to being a trailblazing retailer. But for Tindell, the goal never has been growth for growth's sake. Rather, it's to adhere to a fundamental set of corporate values, centered around an intense employee commitment, strict merchandising and superior customer service. Success has been the natural and inevitable result. Tindell continues to embody the unique corporate culture he created, and has nurtured a fierce employee loyalty that has landed the company at the top of FORTUNE magazine's list of "100 Best Companies to Work For" the past 11 years. In 2006, along with wife Sharon Tindell (Chief Merchandising Officer) and Boone, Tindell was inducted into the Retailing Hall of Fame.

Retail Innovator of the Year: Glen T. Senk, CEO, URBN, Urban Outfitters Inc
Recipients of this award have successfully distinguished themselves as retail pioneers through the use of new, innovative or imaginative techniques, formats or service. Furthermore, they have demonstrated an ability to sustain and build this concept in the face of challenges.

Glen T. Senk was named CEO of Philadelphia-based Urban Outfitters, Inc. in May 2007. Senk's career with the Company began in April 1994 when he joined Anthropologie as president of what was then a single store prototype. Senk was named executive vice president of Urban Outfitters, Inc. in May 2002 and elected to the Company's board of directors in June 2004. Prior to Anthropologie, Senk served as senior vice president and general merchandise manager of Williams-Sonoma, Inc. where he oversaw the retail and mail order operations for Williams-Sonoma, Pottery Barn, Hold Everything, Chambers and Gardener's Eden. During his tenure at Williams-Sonoma, Inc. Senk developed the strategy and laid the groundwork for Pottery Barn's rapid expansion and sales growth.