MUNICH FABRIC START says feel the truth for next event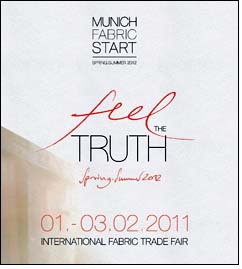 With the 2012 Spring/Summer season MUNICH FABRIC START makes essentials centre stage. Feel the truth is the motto of the next event, which is completely booked up yet again. From 1 to 3 February it will offer the fashion sector the perfect all-round package: the latest fabrics and additionals, current trends in materials and styling, technical information, communication and entertainment. 752 exhibitors from 36 countries will be part of the game.

This means the four halls of the Munich M,O,C,, the Studios and Atriums housing the areas Collections, Additionals, Asia Salon and the Showrooms are all strongly positioned to present a wide portfolio of innovations. The Additionals area alone will be setting standards. 169 additionals manufacturers from 16 countries will cover the entire range of fashion-critical additionals from labels, trimmings, facings, interlinings and shoulder padding to yarns and fasteners. Extraordinary separates or complete services such as RFID technology, for instance, meet with trade visitors' individual needs.

The Blue Zone held in parallel at the Zenith Hall over the first two exhibition days with 47 exhibitors pools the "Who's Who" of international denim weavers, laundries and full service providers. Both current collections for S/S 2012 and initial collection premieres for A/W 2012/13 make these dates a "must-see" fixture for the denim and sportswear scene.

First-Time Exhibitors
46 new companies and collections can be discovered at the forthcoming MUNICH FABRIC START. These include twelve additionals producers and weaving mills from Italy alone, such as Dipama (Labelling), Seterie Argenti, Guest by Clerici and Imatex. This line-up is complemented by G.H. Leathers from the United Kingdom. Other attractive collections and new ideas come from Switzerland and Turkey as well as South Korea providing fresh input for sourcing.

MUNICH FABRIC START's web presence at www.munichfabricstart.com is brand new.
Noticeably improved – because they are now more sophisticated – are the individual exhibitors' presentations. Thanks to our improved search function you will now be able to find the right materials and exhibitors even faster. Exhibitor profiles have now also been extended to include current photos of the collection in addition to comprehensive company profiles and product highlights.

It is now crystal clear: MUNICH FABRIC START is a consistent trade fair – in terms of content in any case but also in terms of corporate identity. Easy-to-discern, simple and invitingly aesthetic it is the fast track to exhibitor information, to the trade fair infrastructure, news, ticket reservations, accreditation and media tools.

Summer 2012: FEEL THE TRUTH
The 2012 Spring/Summer fashion season moves essentials centre stage. Looking chic rather than styled is one of the central statements for the new season. The borders between casual, sportswear-type and chic blur and are re-defined. Six fashion themes were laid down by Zoom, the trend office working for MUNICH FABRIC START: Three for menswear and womenswear and three other themes for denim, sportswear and kidswear.