Alvanon appoints Ed Gribbin as its new President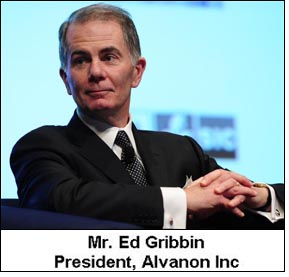 The world's leading apparel sizing and fit expert, Alvanon, has announced the appointment of Ed Gribbin to president of Alvanon Inc. Ed Gribbin, who has worked for Alvanon as president of its global strategic consultancy division for three years, is widely recognised throughout the apparel supply chain as the world's leading authority on sizing and fit.

His promotion to president of Alvanon Inc follows his outstanding contribution to developing the group's global profile and for instigating successful customised fit strategies with an international portfolio of major apparel brands and retailers. Ed Gribbin will operate from the group's head office in New York and regional offices in the UK, Hong Kong and Germany. He takes up his appointment with immediate effect.

Ed Gribbin first joined Alvanon in 2006 as head of its AlvaInsight strategic consultancy division. He brought over 30 years experience of the international apparel industry to his role in which he was responsible for driving Alvanon's front end strategic consultancy. Since joining Alvanon he led the team who compiled the world's largest database of 300,000 human 3D body scans, analysed consumer measurement data and conducted numerous brand and product fit assessments. His expert advice on improved fit strategies secured consultancy contracts with some of the world's largest brands and retailers in the fashion, lingerie, sportswear, corporate clothing and mail order sectors.

Janice Wang, CEO of the Alvanon Group of companies commenting on his appointment said: "We are delighted that Ed has agreed to assume the responsibility of president of Alvanon Inc. He brings great expertise, knowledge and experience to our company. Over the past three years we have seen our business mature and much of this has to do with Ed's leadership."

Prior to Alvanon, Ed Gribbin was president of Intellifit Corporation where he oversaw the collection of over 120,000 body shape scans for men, women and children in the US, Japan and Europe; the data from which is now utilised by Alvanon. Ed Gribbin was also the co-inventor of the revolutionary Intellifit System, the first body scanner capable of collecting body scan data from fully clothed people. Before Intellifit he was senior vice president of the corporate clothing giant Angelica Corporation and prior to that, co-founded Boathouse Sports, one of the largest specialty outerwear manufacturers in the United States.

Ed Gribbin has a Bachelor of Arts degree in Philosophy from St. Joseph's University and is a member of The Fashion Group International, the International Apparel Federation, the Product Innovation Council of the American Association of Apparel and Footwear, the Fashion & Apparel Studies Advisory Board of the University of Delaware, the International Association of Clothing Designers and Executives, the Association of Suppliers to the British Clothing Industry, and ASTM International. He lives in Merion Station, Pennsylvania with his wife, Georgianne and daughter, Bridget.