We are in a very strong financial position – DEST CEO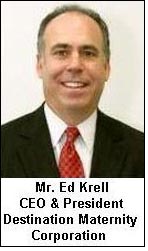 Destination Maternity Corporation, the world's leading maternity apparel retailer, announced operating results for the first quarter of fiscal 2011, which ended December 31, 2010, with its first quarter diluted earnings per share significantly exceeding both its prior earnings guidance and its prior year first quarter earnings results.

The Company also increased its earnings guidance for the full year fiscal 2011. In addition, yesterday the Company announced that its Board of Directors has initiated a regular quarterly cash dividend and approved a two-for-one split of its common stock in the form of a stock dividend.

Commentary

Ed Krell, Chief Executive Officer and President of Destination Maternity Corporation, noted, "We are pleased with the continued increase in the profitability of our business, as well as the improvement of our sales performance for the first quarter of fiscal 2011.

"Our GAAP diluted earnings per share of $0.81 for the first quarter exceeded the top end of our prior earnings guidance range of $0.51 to $0.66 per share that we provided in our November 18, 2010 press release, and was significantly higher than last year's first quarter GAAP diluted earnings of $0.20 per share.

"Our sales performance for the first quarter was at the high end of our sales guidance, with our comparable retail sales increasing 2.1% and our comparable store sales increasing 1.2% for the quarter.

"As we have indicated previously, we are keenly focused on initiatives to drive profitable sales growth, including increasing our comparable store sales, and we are pleased that our comparable store sales and comparable retail sales were positive for the first quarter.

"Among our other initiatives, the significant expansion of our maternity apparel leased department relationship with Macy's will occur in February 2011, through which we will expand from our current 115 Macy's locations to over 615 Macy's locations throughout the United States, offering a mix of Motherhood Maternity and A Pea in the Pod branded merchandise.

"This expansion with Macy's will deepen our position as the leading maternity apparel retailer in the world. In addition, we are focused on continuing to enhance our merchandise assortments, merchandise presentation and customer experience."

Cash Dividend and Stock Split

"We also announced that our Board of Directors has initiated a regular quarterly cash dividend and approved a two-for-one split of our common stock. Initiating a regular quarterly cash dividend demonstrates the Board's confidence in our Company's financial strength and our prospects for the future, and highlights our strong earnings and cash flow generation and our commitment to continue to drive shareholder value. In addition, we believe that the stock split, combined with the regular quarterly cash dividend, will make our stock even more attractive to a broader range of investors and may increase the trading liquidity of our stock.