Maxeda concludes strategic review its fashion business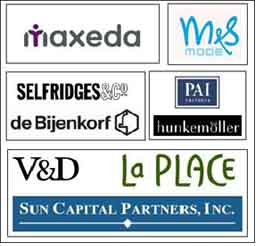 The Executive Board and Supervisory Board of Maxeda Retail Group B.V. announce that the strategic review of its fashion businesses, initiated in February 2010, has been completed. The Fashion Group comprised V&D, La Place, de Bijenkorf, Hunkemöller and M&S Mode.

Following the completion of the acquisition of V&D / La Place by Sun European Partners last November, all remaining transactions have now been successfully concluded, after the competition authorities concerned gave their approval. The Works Councils of de Bijenkorf, Hunkemöller and M&S Mode responded positively to the sale of the fashion formats and discussions with the trade unions have all been very constructive.

The new owner of de Bijenkorf, Selfridges Group Limited, has extensive knowledge and experience in operating luxury retail stores such as Selfridges (U.K.), Brown Thomas (Ireland) and Holt Renfrew (Canada). Selfridges Group Limited offers the best possible opportunity and expertise to further develop the successful customer experience strategy of de Bijenkorf.

Hunkemöller, which has been acquired by PAI Partners, will continue to develop its image, product and market penetration, and will benefit from PAI's experience and expertise with investments in retail formats such as Coin, Vivarte and Cortefiel.

M&S Mode will strengthen its position as European ladies fashion retailer by joining Excellent Retail Brands, a partner with the knowledge and the network to further position M&S Mode as a truly international brand. Excellent Retail Brands owns a number of successful fashion formats - Cool Cat, Wonder Woman and America Today. Tony DeNunzio, Executive Chairman of Maxeda: "I am delighted to announce this successful completion of the strategic review for our Fashion Group. During the strategic review, we have explored individual routes for each fashion format and all formats are now well positioned for the future with the right strategic partner. All the fashion formats are retail leaders across their businesses and I am convinced they can now further accelerate their growth strategies and take the next step in their evolution."

Over the past few years, Maxeda has transformed the fashion formats and created better businesses with strong market positions. Maxeda will continue to support and invest in the DIY Group, making, Brico, Brico Plan-It, Formido and Praxis more successful and positioning Maxeda DIY as a modern, integrated and market leading Benelux business.

Maxeda Retail Group B.V.