Beat summer heat with coolest, trendiest Esprit SS'11 range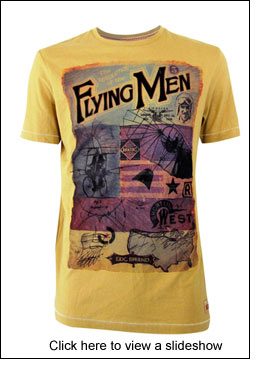 Esprit, the international youthful lifestyle brand, announces the launch of their SS'11 collection. This summer, Esprit SS'11 collection has a relaxed and authentic preppy look. As winter gives way to the warmer months of 2011, Esprit bids farewell to the heavier, darker looks and welcomes light fabrics and textures. Look elegant, cool and trendy, be it at work or a party. Gear up for a great summer with the striking and stylish new range from Esprit.

'Esprit Women Casual' is all about feminine styles and natural influences. Esprit casual dresses and skirts come in various silhouettes with fresh and charming hues of beige, grey, warm brown and khaki. The collection is also accentuated with solid colors like aqua colors, red and coral, airy pastels for a fresh and edgy look. Sport a total denim look with jeans, or quirky skirt teemed with a bright shirt, or jacket with summer boots and a luxurious neckerchief, for a flattering summer look. Choose from delicate strappy dress in millefleurs with ruche detail and floral prints, abstract ethnic, animal and playful watercolour prints that exudes style.

'Esprit Women collection' is inspired by the magic of international cities, the line includes flattering, feminine styled dresses like the olive-coloured, twisted neckholder shirt embellished with gemstones, combined with a short, sarouel skirt with flowing drapes. Other unique pieces are exquisite silk and cotton jerseys not only in rich range of neutrals but also in fruity shades such as apricot, papaya and mango, as well as aqua nuances detailed with abstract water colour prints, floral prints and ethnically inspired designs for an overall effect of ultra-femininity.

This summer Esprit edc spells robust, adventure styles. Narrow cargo trousers and vibrant striped shirts teamed with tank top or animal-print top make for a summer adventure dressing. Sophisticated casual leather jacket when worn with oversized scarf and hip hybrid sandals lends to a complete urban chic appearance. The must haves this season are parka, chinos and striped shirt in used look by Esprit edc. Destroyed treggings, metallic top and blazer in military look is a must for those with dynamic and daring wardrobe rules. Lacey miniskirts worn with floral prints and romantic flounce dress are refreshing antidotes to winter grays and blacks.

The flavor of this season in Esprit Men Casuals is the juvenile mishmash of campus and rugby style elements. To show off your macho intelligence with your wardrobe, checkered and striped blazers in club style with classic elbow patches, or knitted jackets and Oxford shirt with button-down collar is just what your wardrobe needs this season. For languid, luxurious inspired look, grab Esprit casual's vintage denim jeans and lace-up brogues. College-look jackets teemed with denims is sure to make you feel like the jock of the block. The range is simple and minimalistic yet does not compromise with the quintessence of fashion.