WSP partners with Wal-Mart's supplier Biflex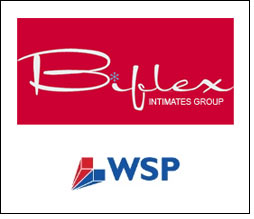 Environmental consultancy, WSP Environment & Energy (WSP) has helped Biflex, a leading private label manufacturer of intimate apparel, to achieve an 'above target' rating for sustainability in Wal-Mart's supplier assessment report.

This achievement comes most notably in the categories of Energy & Climate, Natural Resources, and People & Community and is a result of WSP shaping a rigorous approach for Biflex to their environmental strategy.

Wal-Mart's sustainability initiative, launched in Beijing in 2008, sets industry leading benchmarks for suppliers such as Biflex to meet on issues around environmental management, energy reduction and sustainable production. Comprehensive reporting and continuous improvement are required for Biflex to remain a customer of Wal-Mart, and the organization takes management of it's own supply chain in Asia very seriously.

"Meeting and surpassing customer expectations in all categories, from great design to on time execution is a Biflex hallmark. An environmentally responsible supply chain is a critical component to produce and deliver great products to today's retail community," says Rick Dlinn, Vice President, Sourcing with Biflex.

Rick credits WSP with helping articulate their approach and establishing the appropriate metrics and measurement: "WSP brought a discipline to the way we communicated with our suppliers, established our goals, reported, measured and set about making improvements."

"They have helped us to understand the knock-on beneficial impacts, for example from reducing packaging, which means we can ship more, and therefore reduce the number of journeys, which in turn is saving energy."

Chris Hazen, Director for WSP in Asia, has been working closely with Biflex and confirms that the organization's customers like Wal-Mart, JC Penney and Sears take responsible reporting very seriously: "Our role is to work directly with Biflex's supply chain and help train and educate them on the appropriate standards to ensure that regular visits and requests for information from these leading retailers are dealt with professionally and accurately."

"The standards required are all about continuous reporting and consistent improvement. More than one stumble to an 'orange' rating, and it can place a serious limiter on your future business with these major retailers," says Chris.

Some of Biflex's sustainability initiatives have included:

Incorporating a 'next generation' fabric of recycled nylon into their specialist apparel products, resulting in a 50% reduction in the use of virgin nylon materials.

Their dyeing and finishing facility spent $50m in recycling and treating sewage, reusing waste water and sludge, and capturing heat and steam, resulting in reducing water usage by 4m tons per year and reducing waste water by 7.2m tons per year.

Committing to visit and evaluate every facility the company uses in Asia, meeting the senior management and receiving prior certifications and a current certification, before engaging with them.