Kohl's to remodel 100 stores nationwide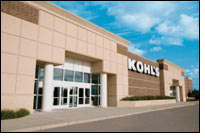 Kohl's Department Stores marks the grand opening of nine new stores across seven states, bringing more than 1,200 jobs.

"We are pleased to be in a position to create more than 1,200 jobs, as Kohl's continues to grow and build market share in a challenging economy," said Kevin Mansell, Kohl's chairman, president and chief executive officer. "We continue to bring customers new stores where they can enjoy quality national and exclusive brands at exceptional values. Additionally, we are investing in our existing store base, to keep the customer experience fresh and exciting, by remodeling 100 stores this year alone."

Growth and Expansion

Kohl's marks another year of growth by adding nine stores in seven states - Illinois, New York, South Dakota, Texas, Virginia, Washington and Wisconsin - and plans to open a total of approximately 40 new stores in 2011. In addition to the new store openings this spring, Kohl's continues to invest in its existing store base, remodeling approximately 100 stores in 2011, an 18 percent increase from 2010.

The Real Value of Kohl's - Commitment to Customers

At Kohl's, it's not just what customers save, it's about what they get. Every day Kohl's provides customers with an unconditional shopping experience through Kohl's quality world-class national and exclusive brands, unique savings tools, unbeatable policies, customer conveniences, Kohl's Cares cause program and a commitment to environmental responsibility.

World-Class National and Exclusive Brands

Kohl's world-class national and exclusive brands include Levi's, Carter's, Nike, adidas, Bali, Simply Vera Vera Wang, Food Network, Bobby Flay, LC Lauren Conrad, ELLE Contemporary Collection, ELLE DECOR, Chaps, Dana Buchman, Candie's, Tony Hawk, Apt. 9, Jumping Beans, SONOMA life + style, Cuisinart, KitchenAid and more.

Kohl's commitment to customers has been recognized by the National Retail Federation for the past six years on its list of retailers that offer the best customer service. In addition, Kohl's has ranked among the top retailers in the University of Michigan's customer satisfaction survey for nine consecutive years, including ranking number one among mid-tier department stores in 2010.

Kohl's Cares - Community and Environmental Commitment

Kohl's cares and strives to be an active member in the cities and towns where Kohl's does business. Through charitable giving and volunteer programs for kids' health and education and environmental initiatives, Kohl's is making its communities happier, healthier, greener places to live and work. Kohl's supports local communities through Kohl's Cares philanthropic programs which include:

Kohl's Cares Cause Merchandise Program - Throughout the year, Kohl's sells kid-friendly cause merchandise, with 100 percent of the net profit donated to support children's health and education initiatives. Since 2000, morethan $180 million has been raised nationwide through our Kohl's Cares cause merchandise program.