Fashion's top brand gurus intro Stinson R. Ely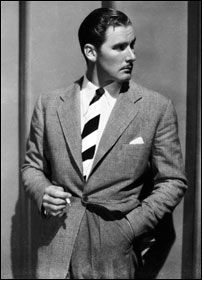 Andy Stinson, luxe fashion's longtime branding whiz and co-founder of Stinson/R. Ely & Partners the brand imaging, design and publicity firm he co-helmed for 22-years ago with partner, Robbi Ely announced launching Stinson R. Ely, their eponymously named menswear label.

Bereft of basics, it is a dandies collection, exclusively. Unarguably, it promises to be luxe fashion's most buzzed-about new men's label.

Throughout, It is resolutely modern and visually dramatic, a salute to the seamless melding of what otherwise would be contradictory design talents between the dashing Stinson and Ely's understated minimalism. http://www.stinsonrely.com

A narrowly defined collection, it woos a risk-assertive sartorialist, a man who effortlessly marries elegance and modernism with daring, yet sophisticated, flamboyance.

No shrinking violet, its designs, coloring and silhouettes contradict all current menswear fashion trends. Radically avant garde, it dares to take risk at every corner.

Therein its dandy's appeal.

That it "dares to take risk" is an au contraire description considering it's designs are minimalistic simple and void of extraneous detail. Motifs are simple, timeless classics. Its palette, for the most part, shaved to just two colors.

Despite its simplicity, its sledge hammer wallop and dandy's pedigree are won from a few sleight-of-hand design tricks that magically transform minimalist simplicity into daringly adventurous. The unexpected surprise of Spring patterns are transported to Fall-Winter, then powerfully executed in bold, over-sized motifs.

Vibrant colors – juggled in visually dramatic combinations – pit neutrals against the surprise of Spring's jewel tone brights, role-reversed and unexpectedly used for Fall-Winter. Its seldom seen silhouettes – all classics resurrected from the '30s, and '40s – have been absent from contemporary fashion's dialog for decades.

Proving the cliche that it takes-one-to-know-one, no better a dandy's designer than a dandy. A widely renowned dandy and, with partner Ely, one of the most prolific image makers in the fashion business, Stinson's own design reputation is for juxtaposing flamboyant design twists atop classic fashion themes.

Completed before her passing, 18-months ago, Stinson R. Ely pays tribute to the design genius of Robbi Ely, an ardent minimalist who time-and-again proved the most visually dramatic designs are those reduced to their simplest elements.

Despite their freshman status, Stinson and Ely rank veteran designers and boast an enviable list of superstar clients. Over their firm's 22-year tenure, they co-designed the press collections for a bevy of top American and British luxury labels.

Four times a year, Stinson and Ely re-designed the seasonal lines for as many as 10 clients, transforming otherwise ho-hum collections created to be commercially successful into ultra hip "looks" with trend-setting attitude and the edgy, "fashionista appeal" demanded by fashion editors.