Textured Jersey's pre-IPO placement well received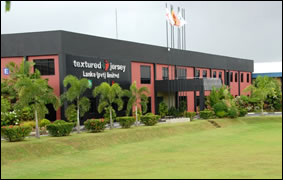 Textured Jersey Lanka (Private) Limited (Textured Jersey), a joint venture between Hong Kong listed Pacific Textiles Holdings Limited (Pacific Textiles) and Sri Lanka's Brandix Lanka Limited (Brandix), had invited for the application of a Rs 1.74 billion pre-IPO share placement, prior to seeking a listing on the Main Board of the Colombo Stock Exchange (CSE).

A 20% stake in Textured Jersey was to be divested by its existing shareholders to qualified investors during the pre-IPO share placement last week, with the issue being comfortably oversubscribed despite it being offered to only selected investors, with a minimum subscription threshold in excess of Rs 50 million.

The Company expects to shortly submit its IPO listing application to the CSE, wherein a further 10% of Textured Jersey is proposed to be offered to the broader investing public by way of a fresh issue of shares at the same pre-IPO placement price, subject to receiving CSE approval for same. This new issue is expected to raise Rs 1.2 billion, with approximately 30% of Textured Jersey to be in the hands of the public post-listing on the CSE.

Mr. Bill Lam, Chief Executive Officer of Pacific Textiles Holdings and Director of Textured Jersey Lanka, said that the listing would enable Textured Jersey to take advantage of potential growth opportunities in both Sri Lanka and the South Asian region. "High global cotton prices is an industry-wide headwind at present, but we believe this will facilitate industry consolidation in the longer term as stronger players continue to gain market share" said Mr. Bill Lam. Cotton plantings acreage would also increase in response to the higher prices, stated Mr. Bill Lam.

Textured Jersey is one of Sri Lanka's most sophisticated production facilities, manufacturing knitted fabrics for the intimate apparel and sportswear industries. Specializing in the manufacture of high quality, weft-knitted and dyed stretch fabrics, Textured Jersey is a major supplier to apparel manufacturers throughout Asia and end-chain retailers. Amongst its largest clients are Victoria's Secret, Marks & Spencer and Intimissimi. Infrastructure at the 650,000 sq. ft. facility in Avissawella enables a capacity to knit, dye and finish up to 2.5 million meters of fabric a month.

Despite facing challenges in the form of rising cotton prices, high energy costs and loss of tariff concessions, Textured Jersey has delivered strong financial results during the past five years, with net profits rising at a CAGR of 22% to US$ 5.0 million in the year ended 31st March 2010.

Mr. Ashroff Omar, Chief Executive Officer of Brandix and Director of Textured Jersey, said that the Company was both honoured and humbled by the confidence and trust placed by investors in Textured Jersey, and emphasized that the listing would provide Textured Jersey with greater operational flexibility and a separate independent platform to raise funds from the capital markets to support its future growth aspirations. "Knitted fabric is the fastest growing segment of the Sri Lankan apparel export market, which is growing strongly even after the end of the GSP+ concessions in August 2010, and Textured Jersey is the country's pre-eminent producer of value-added knitted fabric" stated Mr. Omar.