Denims & twills producer Vicunha sees good results in 2010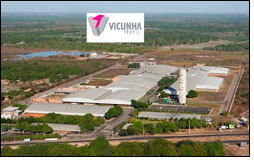 Leading producer of denims and twills in Latin America and one of the three largest manufacturers in the world, Vicunha posted net income of R$ 70 million (€ 30,5 milllion), a significant improvement compared to the same period in 2009, when it posted a loss of R$ 5 million (€ 2,2 million). Consolidated net revenues reached R$ 884 million (€ 384,5 million), up by 26% over the previous year (R$ 700 million / € 304,5). EBITDA totaled R$ 164 million (€ 71,3 million), 49% higher (R$110 million / €47,9 million).

Vicunha's good results are also reflected in the reduction of consolidated net financial debt going from R$ 501 million (€217,9 million) in 2009 to R$ 277 million (€120,4 million) at the end of last year. The reason is the reduction in financial leverage ratio in 2010 due to capitalization and increased profitability of the business.

Innovation and technology to differentiate their products were the main focus of Vicunha's business in 2010, with investments in research, development and marketing, and customer relationships to expand and increase its portfolio. Other relevant actions for these results were the sale of viscose segment for the Vicunha Participações S/A, and the disposal of polyester production to WPAR Asset Management Ltda. There was also the segregation of non-operating assets, a wholly owned and specific subsidiary, allowing the future sales or incorporation of such assets.

The positive figures for the period are due to Vicunha's positioning in becoming stronger within the sector in which it operates both nationally and internationally. To achieve this goal, important actions are being implemented, such as:

Total investment of R$ 430 million (€187 million) over three years to modernize the manufacturing facilities located in the Brazilian Northeast (three in Ceará and Rio Grande do Norte); from that amount, R$ 90 million (€39,1 million) are already being implemented this year. During the period, the company consolidated its international operations by buying the LA Internacional company, located in Ecuador, with an investment of R$ 42 million (€18,3 million) to double the denim production capacity in the unit installed in Quito.

Execution of a Memorandum of Understanding with the government of Mato Grosso and with the city of Cuiaba to install in the coming years plants involving activities in spinning, dyeing, weaving and finishing, all towards the processing and production of denim. The projected investment is R$ 350 million (€152,2 million), expected to generate direct employment of two thousand and six thousand indirect jobs, annual processing of 65,000 tons of annual production of cotton and 72 million linear meters of fabric.

In 2011, Vicunha, through its subsidiary Brastex, in Argentina, signed a contract, supplying the production of denims and twills with the Ullum Group encompassing Tintoteria Ullum S/A., Tejuderia Galicia S/A and Tejeduria Panama S/A, all in the textile industry. The supply period will run until June 30, 2011, applying the same term to exercise the purchase option. If the option is exercised, the estimated lump sum between the acquisition and implementation of investments to increase flexibility and modernization of production is R$ 67 million (€29,2 million).