Tissu Premier - fresh fashion & color addiction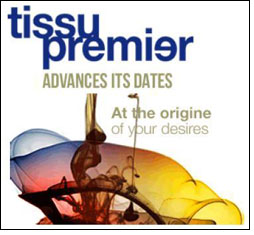 TISSU PREMIER, the international fabric and trim trade fair, a leader in the Fast Fashion industry, launches its new Spring dates June 15th and 16th, 2011 at the Grand Palais in Lille: this session will renew a taste for color and innovation. Reactivity, creativity and practicality at the service of fashion …

This new event adapts to the accelerated rhythm of fashion collections, now broken down throughout the year. The dates answer the needs of buyers and exhibitors, they correspond to the "high" season of buying and business meetings for Winter and next Summer while being ideal for the volume market. TISSU PREMIER allows the 120 exhibitors and their visitors to condense their contacts in one location over a 48-hour period, saving them time and proposing new business connections.

A new recipe for success: the fair foresees an increase in both its overall surface and the number of collections presented.

This fashion primer for fabric and trim collections presents the first novelties for summers, the latest updates for Winter plus impulse purchases and seasonal favorites for fast fashion to kick off the upcoming Fall season. Reference points and strong inspirations also anticipate the long term with the Fall-Winter 12/13 color range and conferences by the 3 top trend offices.

The fabrics shown follow the whims of fashion: spicy novelty prints and affordable trims will make a difference for reorder budgets which represent 30% of the season's purchases. Collection origins are varied : besides France, which provides half the offer, we note a strong presence from Italy, Turkey and Morocco. To diversify their search, visitors can discover new exhibitors from France, Italy, Portugal, the United Kingdom and Turkey, present for the first time or returning after a few seasons.

This session marks an update for the fair's lexicon : while still dedicated 70% to fabrics for women, men, children and sportswear, it reinforces its offer to dynamize and aid in decisionmaking via 3 related business platforms:

• Print designer creations : motifs, colors and imaginative extravagancies from textile designers
• Ready-to-wear sourcing: an efficient selection of manufacturers at close proximity
• Trim (Accessory) suppliers: fifteen companies from buttons to braids. Custom-made services.

Fall Winter 12/13 Color Range: Addiction

Thanks to a flawless addiction to color with its secret sensations and forbidden games, fashion lets us take a break from a somber, sadly-agitated world. The rediscovery of energetic, fresh color ranges, far from a stilted superficiality, moves us into winter with lightness and salvation.

This represents an escape hatch from the temptations of the past and a resistance to overall conformity. Abundant ochres, golds and russets are active ingredients which warm up, enlighten and enrich our environment. Monochromes beckon with their subtle emotions. Floral overtones lead towards a sensual, aromatic, universal language. Darks are syncopated by urban signalbrights to inspire us with elegant design harmonies.