Formula for success continues to work at VF Corp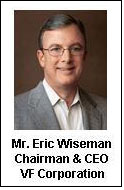 VF Corporation, a global leader in branded lifestyle apparel, announced results for the first quarter of 2011. All per share amounts are presented on a diluted basis.

First Quarter Results Summary

Revenues rose 12% to $1,958.8 million from $1,749.9 million in 2010. All VF coalitions achieved higher revenues in the quarter, with the strongest growth in Outdoor & Action Sports, where revenues increased 16%. Jeanswear revenues grew 9%, Imagewear revenues rose 12%, Sportswear revenues increased 10% and Contemporary Brands revenues were up 8%.

Gross margin reached a record 47.2%, up from 46.7% in the 2010 period. Operating margin reached 14%. Gross and operating margins in the current quarter both include a 40 basis point benefit from a change in inventory accounting.

Net income rose 23% to $200.7 million from $163.5 million, while earnings per share increased 25% to $1.82 per share from $1.46 per share. Earnings per share in the quarter benefited by $.07 per share from a favorable tax settlement and by $.04 per share from the aforementioned change in inventory accounting.

"Our decision last year to increase investments in our brands to drive organic growth is paying dividends in the form of continued top and bottom line momentum that we expect to sustain during 2011," said Eric Wiseman, Chairman and Chief Executive Officer. "During the quarter we achieved higher revenues and operating income across all businesses, with exceptionally strong international growth as we continue to extend the reach of our brands to consumers around the world."

First Quarter Business Review

Outdoor & Action Sports: Our Outdoor & Action Sports businesses achieved record revenues and operating income in the first quarter. Total global revenues in Outdoor & Action Sports rose 16% in the quarter, with revenues of our Americas business rising 12% and international revenues up 21%. The two largest brands - The North Face and Vans - achieved global revenue growth of 17% and 20%, respectively. Reef brand revenues were exceptionally strong in the quarter, with revenue rising 18%. Our Kipling and Napapijri businesses also saw strong revenue gains in the quarter, with revenues up 29% and 9%, respectively. Total direct-to-consumer revenues for Outdoor & Action Sports rose 12% in the quarter, with solid increases in The North Face, Vansand Kipling direct-to-consumer businesses.

Operating income for the coalition rose by 13%. Reflecting a higher percentage of advertising to revenues versus the 2010 period, operating margin in the quarter was 18.3% compared with last year's 18.7%. The full year coalition operating margin is still expected to approximate 20%.

Jeanswear: The momentum in Jeanswear continued in the first quarter with revenues rising 9% and operating margin expanding by nearly a full percentage point. Domestic revenues rose 5% with growth across our Mass Market, Lee and Western businesses. International jeans revenues increased 17%; Asia revenues rose 60%, revenues in Mexico, Latin America and Canada each increased by more than 20%, and European revenues were flat with those of last year's quarter.