John Cable joins Barco Uniforms as Director of Production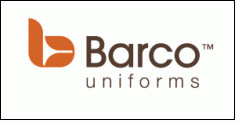 Barco Uniforms, an acclaimed leader in the uniform industry, announced that David Murphy has joined the company's leadership team as senior vice president, marketing and sales. In addition, the company named 34-year industry veteran John W. Cable director of production and Toni S. Lee, who brings 19 years of apparel industry experience, senior product development manager.

"I am delighted at the exceptionally high caliber of talent and expertise these individuals bring to Barco Uniforms," said CEO Michael Donner. "Their passion for our industry and commitment to ensuring every customer receives exceptional quality and service are surpassed only by their enthusiasm for contributing to Barco Uniforms' extraordinary future as a global leader."

As senior vice president of sales and marketing, Mr. Murphy will be responsible for the company's global sales and marketing, where he will leverage his in-depth consumer marketing expertise as the company expands its existing base of business and taps new markets. He brings more than 20 years of experience in sales and marketing, having led industry leaders like Nike and Fresh Produce Sportswear to heightened levels of success. Most recently, Mr. Murphy served as national director of sales and marketing at Jones & Mitchell, a wholesaler of collegiate and resort apparel.

"Barco Uniforms is on the verge of an exciting new chapter in its history of leadership in the uniform market. This company uniquely blends inspirational leadership, genuine caring people, and a vision of innovation and quality that's unmatched in this business," said David Murphy. "I am thrilled to be part of this organization and I look forward to working with Michael, Danny, Andrew and the entire Barco Uniforms team as we embark on a new journey of excellence and continue to positively impact people's lives."

Throughout his career, Mr. Murphy held positions of increasing responsibility in the apparel industry. While at Fresh Produce Sportswear, he repeatedly led the company to record sales and earned successive promotions from national sales manager to vice president, sales and ultimately to vice president, sales and retail.

At Nike, Mr. Murphy served as territory sales manager for Nike Chicago, and his team achieved the prestigious National Showroom of the Year Award for attaining excellence in sales, marketing, merchandising and education. In addition, Mr. Murphy was an owner-agent of The Patrick Apparel Group, representing international apparel manufacturers in the sourcing and production of apparel products. Mr. Murphy earned his bachelor's degree and completed graduate studies at the University of Iowa.

As director of production at Barco Uniforms, Mr. Cable will be responsible for all global production for the company's medical and identity divisions. Prior to joining Barco Uniforms, he was vice president of supply chain for Evolve, where he managed all operations including supply chain and production.