Fall/Winter order backlog shows solid growth, GEOX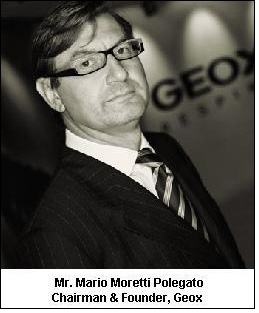 The Board of Directors of Geox S.p.A. approved the first quarter 2011 financial results.

Mario Moretti Polegato, Chairman and founder of Geox, commented: "We are satisfied with the way this year has begun, both for the first quarter results which are in line with expectations, and above all for the Fall/Winter 2011 order backlog of our multibrand and franchising stores network, which is showing a solid growth of 8%. We have seen a good acceleration in orders coming from emerging markets, Russia and other Eastern European countries, but we are also pleased with the volume of orders that we are receiving from more consolidated markets, like Italy, and certain European countries.

The coming months still present important challenges, but the strength of our brand and the financial solidity of Geox reassure me that the Group can successfully implement important expansion projects both in mature markets and in those with higher growth potential."

The Group's Economic Performance

Sales
First quarter 2011 consolidated net sales increased by 4% (3% at constant exchange rates) to Euro 345.4 million. Footwear sales represented 87% of consolidated sales, amounting to Euro 299.4 million, with a 2% increase compared to the same period of 2010. Apparel sales accounted for 13% of consolidated sales equal to Euro 46.0 million, showing a 17% increase.

Sales in Italy, the Group's main market, which accounted for 40% of sales (38% in the first quarter of 2010) amounted to Euro 137.3 million (125.8 million in the first quarter of 2010) showing a 9% growth.

Sales in Europe, which accounted for 43% of sales (46% in the first quarter of 2010) declined by 3% to Euro 148.1 million, compared with Euro 152.4 million in the first quarter of 2010.

North American sales increased by 5% at Euro 15,3 million (stable at constant exchange rates). Sales in the Other Countries increased by 11% (10% at constant exchange rates).

Analyzing sales by distribution, the Geox Shop channel (franchising and Directly Operated Stores - DOS) increased by 25%. This channel represented 36% of sales (30% in the first quarter of 2010).

The sales of directly operated stores (DOS) that have been open for at least 12 months (comparable stores sales) increased by 19% during the first quarter of 2011. Comparable store sales related to the Spring/Summer 2011 collections only (i.e. from February 28th to May 8th) increased by 2%.

The increase in DOS net sales of 24% is due to the increase of comparable stores sales, new openings, as well as to the conversion of a number of stores owned by the Group that were leased to third parties under franchising agreements in first quarter 2010 and which are now DOS.

Franchising channel reported an increase of 26% in the first quarter of 2011.

Multibrand, the Group's main distribution channel, which accounted for 64% of sales (70% in the first quarter of 2010) declined by 6%.