Tomorrow's textiles trends to be presented at Tissu Premier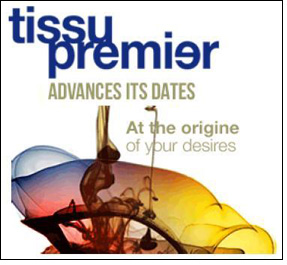 By abandoning its September dates to re-position itself in June, Tissu Premier, the creative trade fair that helps accelerate business, confirms its position in the Fast Fashion market.

Event Details:
Starts: 15/June/2011 - Ends: 15/June/2011
Venue: Lille Grand Palais ( France, Lille )
Frequency: Biannual - Character: Professional Categories: Accessories , Clothing textiles , Fabric,fashion

Tissu Premier offers the cream of international garment manufacturing through local suppliers in France, focusing on the Nord-Pas-de-Calais region, complemented by other European and Mediterranean countries including Turkey, Morocco, Tunisia, Italy, Portugal, Belgium, the Netherlands, Germany and the UK.

Le FORUM

Save time with a themed overview of the show's exhibitors, in association with style consultancy Peclers Paris: the latest winter and the first summer products. The fabric and accessories collections for menswear, womenswear, childrenswear and sportswear illustrated by images of Maisons de Mode's street-style models, bridging the gap between fashion and the end customer.

The Innovation Table

Tomorrow's textiles and the innovations presented at the show with MatériO Antwerp, designed by Suzanna Campogrande. To give your collections added value through the use of high-performance textiles. A fashion-aware selection to be relished without restraint.

Fresh & Busy Exclusive : Designers Textiles !

10 textile designers will be on hand to design your prints exclusively. A creative area showcasing the latest innovations in printing which is always a hit with visitors. Bringing you the season's innovations first so you can explore new themes.

Business Booster: The latest in ready – to - wear and accessories

A platform of 12 creative and highly responsive clothing manufacturers specialising in men's, women's and children's ready-made outerwear, including loose-fitting and knitted fabrics.

A platform of 15 accessories suppliers: buttons, zips, ribbons, labels, trimmings, embroidery, badges,elastic etc.

Sneak Preview of Winter 12/13 Colour and Fashion Trends

A fresh, cross-generational look at colour as a lifestyle and fashion statement.

The minute they set foot inside the show, visitors will be immersed in the coming seasons, exploring the proposed colour ranges. An exhibition focusing on the Winter 12/13 range from the 'ADDICTION' show, in association with Pantone, Mode information and Comité Français de la Couleur.

A sensual invitation to experience colour through all the senses, created by Imaginers.

Up-and-coming young designers

A colour matching session, with the range illustrated and presented by designers from Maisons de Mode, loyal Tissu Premier partners.

The students from north European fashion schools who were such a hit last September will give tomorrow's range a fresh twist, showcasing the creativity of northern Europe.

Fresh Pleasure: Tissu Premier, a trend predictor
A temporary boutique which goes straight to the heart: spotlight on indigo with Bloom magazine and designs by Heartwear, making a creative connection between fashion and sustainable development, between Lille and Mali.