Central Retail buys la Rinascente – No 1 Italian Department Store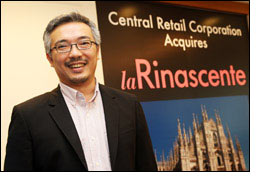 Central Retail Corporation Ltd. (CRC), Thailand s No.1 leading retailer and department store operator, builds up important company s reputation by expanding its business to Europe. It has recently signed a contract with the shareholders of la Rinascente S.r.l. ("Rinascente") – the no.1 Italian renowned luxury department store to purchase 100% of the quota capital.

Mr.Tos Chirathivat - Chief Executive Officer of Central Retail Corporation Ltd., announces that "We already signed a contract with the shareholders of la Rinascente S.r.l. ("Rinascente") at Milan, Italy to purchase 100% of the quota capital of the company for a total consideration of €260 million or equivalent to over THB10,000 million. The signing of the agreement follows the acceptance of CRC s binding proposal by the shareholders of Rinascente."

He also reveals Central Retail strength moving its investment to Europe where is the world s leading fashion capital city that "We are now building up a great new history for Thai retail industry. With this acquisition of la Rinascente, it makes Central Retail Corporation Ltd. truly entering to the world-class business leader in department store operator by expanding our three department store brands under Central Retail chain to totally four brands as following Central, ZEN, Robinson and la Rinascente. All department stores will reinforce our strengths both in Thailand and China."

Rinascente is the no.1 luxury department store in Italy and well-known among tourists since the flagship store of Rinascente is located beside Milan Cathedral or the Duomo di Milano, the no.1 Milan tourist attraction. After the acquisition, we have a plan to promote Rinascente as a "World Class Lifestyle Brand" and to locally expand more flagship stores in several tourist cities such as Rome, Venice, Florence including other important cities such as Napoli and Bologna.

In the past five years, Rinascente has an admirable relationship with Italian and international fashion and design brands. We, therefore, think with this good association of Rinascente; it will be beneficial for expanding into new markets and being the distributor of Italian products both in domestic and abroad.

With 60-year experience and expertise of Central Retail and Chirathivat Family in retail business particularly department store, we will support the excellent work of the current management and create the opportunity for Made in Italy products to expand in profitable and fast growing new markets.

"Rinascente" is the no.1 luxury and famous department store in Italy as well as one of the best department stores in Europe. It has opened their business for more than 150 years with eleven stores in the historical of Italy s major cities as following Milan, Monza, Padova, Torino, Genova, Firenze, Caglari, Palermo, Catania and 2 stores in Rome. Rinascente offers the broadest selection of prestigious brands of men s, women s and children s collection, luxury accessories, cosmetics, lingerie, houseware and a selection of indoor design.