PVH Chairman & CEO pleased with Q1 results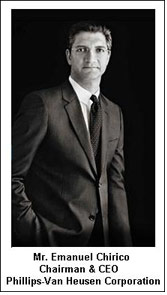 Phillips-Van Heusen Corporation reported 2011 first quarter results.

First Quarter of 2011 Results:

• Earnings per share was $1.23 on a non-GAAP basis, which exceeded the Company's guidance and the consensus estimate and represents an increase of 48%, as compared to the prior year's first quarter non-GAAP earnings per share of $0.83.
• GAAP earnings per share was $0.79, as compared to the prior year's first quarter GAAP loss per share of $(0.53) and to the Company's guidance of at least $0.84. The $0.79 included higher than estimated financing fee write-offs in connection with amending and restating the Company's credit facility in the first quarter.
• Revenue was $1,369.2 million as compared to the prior year's first quarter revenue of $619.0 million. The revenue increase of $750.1 million, or 121%, is principally attributable to (i) $715.4 million of revenue generated by the Company's Tommy Hilfiger business, which was acquired in the second quarter of 2010; and (ii) an increase of $35.5 million, or 17%, in the revenue of the Company's Calvin Klein business.

CEO Comments:

Commenting on these results, Emanuel Chirico, Chairman and Chief Executive Officer, noted, "We are very pleased with our first quarter results. The positive business trends in our Tommy Hilfiger and Calvin Klein businesses accelerated in the first quarter, allowing us to exceed both our revenue and non-GAAP earnings guidance. We launched a very unique and exciting global marketing campaign for the new ck one label, which has been positively received and is helping drive business of this new lifestyle brand. In addition, we introduced the second chapter in our very successful 'Meet the Hilfigers' marketing campaign, as we continue to invest in and broaden the reach of the Tommy Hilfiger brand worldwide."

Mr. Chirico continued, "We continue to concentrate on the strength of our balance sheet. We amended and restated our credit facility in the first quarter, resulting in reduced borrowing rates and additional flexibility with respect to voluntary repayments. We also made approximately $150 million in debt repayments in the first quarter in conjunction with this transaction, for a total of approximately $400 million in debt repayments since the date of the Tommy Hilfiger acquisition, and plan to make approximately $300 million in additional debt repayments during the remainder of 2011."

Mr. Chirico concluded, "As we look forward to the balance of 2011, we believe that the momentum of the Calvin Klein and Tommy Hilfiger brands around the world will continue to drive our revenue and profitability growth. We remain focused on executing our approach to dealing with the product cost increases impacting our industry during the remainder of the year, through product sourcing and design changes, strategic product pricing and prudent inventory and logistics planning. The sound execution of our strategies, investment in our world class brands and consistent focus on a strong balance sheet should continue to drive our future growth."