Make a big splash of style with Lands' End Kids' Swim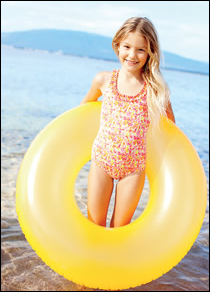 The swim experts at Lands' End are making a big splash this spring with its smartest, stylish and most functional collection of swimwear and accessories for girls and boys. Parents across North America agree. Lands' End Kids' Swim was awarded the coveted 2011 Parent Tested Parent Approved (PTPA) Seal of Approval from the largest volunteer parent-testing community in North America, with more than 40,000 parents.

Quality + Value + Sun Protection + Smart Style = Big Splash
The experts at Lands' End build more into swimsuits, so kids get more wear and parents reap the value. The entire collection features UPF 50 sun protection and leading fabric technology that make each suit durable for what kids dish out -- whether it's a backyard afternoon or beachside getaway. In fact, Lands' End Kids' Swim is unconditionally Guaranteed. Period.

This quality, combined with style and details, sets Lands' End suits apart from the rest. Girls will enjoy the smart, tugless fits that keep straps from sliding down and bottoms from riding up. Boys' board shorts and swim trunks feature comfy mesh liners and soft internal drawstrings for a great fit without chafing. Quick-dry fabrics throughout the collection make it more comfortable for kids to dip in the water then play in the sand. Most styles for girls and boys are available from 2T to 20, slim, plus and husky, ensuring that every kid fits in.

Riding the Wave of Approval
Recently, a team of independent parent volunteers from the PTPA parent testing community evaluated Lands' End Kids' Swim items. Hands down, Kids' Swim was awarded the coveted PTPA Seal of Approval based on merit and the parents' experiences -- not on any commercial considerations.

"Our designers look at every stitch, every detail to create outstanding value and the highest quality kids' swimwear. Many are parents themselves who combine personal experience with design knowledge to create items that kids will love and parents will appreciate," said Liz Pierce, senior design director, Lands' End. "It really shows in this year's collection, and we're so pleased to see our efforts rewarded with happy parents and kids -- and now the PTPA Seal of Approval."

How Suite It is! Mix-and-Match Swim Separates for Girls
Big news for girls is the Swim Suite -- a complete collection of swim separates that can mix and match to fit her personality. She can select from coordinating colors and patterns in a host of swim silhouettes, including 3 styles of Tankinis and a bikini top, that pair with tankini bottoms, SwimMinis and swim shorts. The UPF 50 fabrics feature bright pinks with touches of orange and yellow in ditsy prints, coral patterns and tie dye. For cooler tones, the Swim Suite also features shades of violet, dark blue and green in the same patterns.

Of course, popular one-piece styles are available in a variety of colors and prints. Look for details such as ruffles, double ruffles and bows for a bit of stylish fun. Five collections -- Hampton, Classic, Laguna, Mini Ruffle and Eyelet -- offer many one-piece options.