Performance Days reflects growth across all categories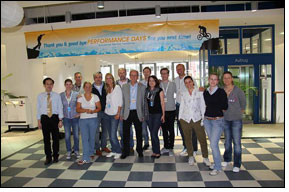 The Performance Days Trade Fair/Roadshow just recently ended, closed brilliantly with growth in all areas: Record numbers of visitors visited the two locations Annecy and Munich, a record number of exhibitors presented the latest innovations, and more informative talks than ever before at either location addressed all the important themes for functional fabrics. The presentation of the Performance Award was an added highlight: the winner was Dyntex (Bregenz, Austria) for its innovative, extra light, downproof fabrics.

The Sixth Roadshow for functional fabrics took place on May 12/13, 2011 in the French city of Annecy and on May 16/17 in Munich. The general conclusion after hosting this round of the Trade Fair: Performance Days is a major player in the areas of sportswear and professional clothing.

The number of professional visitors increased by 65% in comparison to April one year ago, and by 5% compared to November 2010. The number of exhibitors also grew, in part due to the larger exhibit space in Munich, from 70 to 80 companies that came from 20 countries. The public was also an international one: The Trade Fair was visited by guests from 23 countries while the number of pre-registrations by visitors increased by nearly 100%!

One of the highlights was the new location of the Trade Fair at MTC, which enjoyed outstanding acceptance by all. The size of the exhibit stands could be increased to 20 square meters. More space was also available for the lounge area, perfect for lively conversations in addition to the Performance Forum, where designer Alexa Dehmel put together the Trend Tables.

Also very well received was the expanded schedule of talks. The big crowd pleasers were the talks delivered by Nora Kühner, IDEAS, who presented the new active sportswear colors, and by industry journalist Ulrike Arlt, who talked about the trends in the functional sports fabrics presented at the Fair. As a special service, the major trends were also highlighted in the new Trade Fair newspaper "Performance News". Charline Ducas from Textile Exchange also pulled in a large crowd as she shared detailed insights into the textile recycling processes.

The highly coveted Performance Award was presented again this year – this time to the Dyntex company based in Bregenz (A) for the innovative concept "visible down." This ultra-light (27 g/m²), transparent, and yet still downproof fabric caused a sensation with linings made from colored downs that create a brand new look in fashion design without compromising functionality.

Performance Days is also an important platform for the next generation of designers: fashion design students from Pforzheim University learned interesting facts about functional fabrics and new ideas from designer Alexa Dehmel and got a personal tour of the fair by Performance Days senior chief executive Christian Weichert. This visit was organized by the German Fashion Industry Foundation (SDBI,Stiftung der deutschen Bekleidungsindustrie), to assist the students as they prepare to participate in the Fashion Award "FASH" competition.