Plan A contributes £70 mn for Marks & Spencer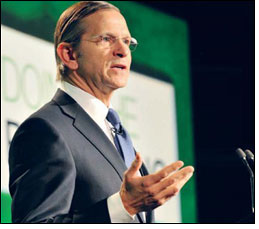 Marks & Spencer (M&S) publishes its annual 'How We Do Business Report' detailing progress on its 180 commitment eco and ethical programme, Plan A.

As M&S moves towards becoming the world's most sustainable major retailer by 2015 highlights on progress include:

• 95 commitments achieved, 77 on plan, seven behind and one on-hold;
• Two million customers directly involved in Plan A activities;
• Net benefit of over £70 million delivered in 10/11 (up from £50m in 09/10);
• Nine sustainability leaders recruited for new Plan A Advisory Board.

Marc Bolland, Chief Executive of Marks & Spencer, says: "Plan A is now delivering more for our customers than ever before. It is creating great products with eco and ethical benefits like the world's first Fairtrade vegetable and the Indigo Green fashion range. Over 180,000 people recycled their unwanted clothes with the Oxfam Clothes Exchange."

Customer involvement

Last year over two million customers were directly involved in Plan A activities and millions more joined in by buying Fairtrade, Organic or Free Range food and products made from more sustainable materials such as FSC-certified wood, Fairtrade cotton and recycled polyester.

Over a million customers bought products that resulted in a direct donation to charity – including Breakthrough Breast Cancer's Fashion Target T-shirts, Macmillan Cancer Support pin-badges and Shelter Christmas Sandwiches. Thousands joined in the M&S sponsored Big Butterfly Count, World's Biggest Coffee Morning (in aid of Macmillan Cancer Support) and Leukaemia & Lymphoma Research's Botham Walk.

180,000 took part in the Oxfam Clothes Exchange – which included autumn and spring One Day Wardrobe Clear-out events where customers returned their unwanted clothes to M&S stores across the country in exchange for a money-off voucher.

M&S Energy greened the homes of 4,500 customers with home insulation and solar panels.

8,000 recycled their unwanted electrical products such as mobile phones and iPods in return for M&S vouchers through the M&S Gadget Recycling service.

Net benefit of over £70 million

A net benefit of over £70 million was delivered as a result of Plan A activities last year, compared to £50 million in 2009/10.

Savings on initiatives such as being more energy efficient in stores and distribution centres (£13.5m saving last year), using less fuel (£2m), hanger recycling and reuse (£1m), and packaging reductions (£11m) more than outweighed any investments M&S made in Plan A projects. The surplus monies have been re-invested into the business.

New Plan A Advisory Board

The How We Do Business report includes details of the recently established Plan A Advisory Board which will help M&S meet its target of becoming the world's most sustainable major retailer by 2015.

It includes some of the most prominent independent sustainability experts from academia, industry and leading NGOs and is co-chaired by Marc Bolland and Plan A advisor Jonathon Porritt (Founder Director of Forum for the Future).